Now, this is a nice state park. Coming from Jacksonville, you head west past the St John River and the little ferry that crosses it, over some salt marsh, and suddenly you are on Little Talbot Island, a tiny barrier of gorgeous sand and shells on the Atlantic Ocean.
The park is across the road from the oceanside, bordering a creek. It's a maze of tiny lanes which we had to navigate very carefully with our 30-foot trailer. Most of the sites are like ours: shady with overhanging live oaks draped heavily with Spanish moss. It's just beautiful here.
Our site is small enough that we had to unhitch to get the truck out of the road, but it seems worth it. I wish we could stay a second night — there's a lot to do here: beachcombing, bicycling trails, a nearby plantation home, a few seafood restaurants, the scenic little ferry, etc. But the park is booked up for the weekend, so we did what we could today.
First stop was the beach. It is wide and flat, miles long, hard packed enough to drive on (but you can't here), and littered with shells at low tide. It was also virtually deserted today. Signs warn of rip tides but the water was warm and people were coming out of the water when we arrived. There's enough space on this beach that the park service felt obliged to post signs warning that nude bathing is not allowed.
Dipping our feet in the Atlantic Ocean means we have finally crossed the country. Our last few swims have been in the Gulf of Mexico, and before that we last touched salt water in the Pacific Ocean at Carpinteria State Beach near Santa Barbara CA. Now we can go only a bit further eastward before we point the rig back to the blue Pacific.
After the beach we took a ranger's recommendation and hopped the 3-minute ferry across the St John River to Mayport. You can ride over as a passenger for $1.00 or take the car for $3.25, each way. It's pretty expensive for such a short ride.
But it's worth it. A hundred feet from the dock on the Mayport side is Singleton's Seafood Shack, a family-run institution that has a richly deserved reputation for serving great food. We left absolutely stuffed full of crab, fish, scallops, shrimp, clam strips, collard greens, coleslaw, rice & beans, and hush puppies. This place is highly recommended! The big collection of hand-made wooden boat models in the back room is a free bonus.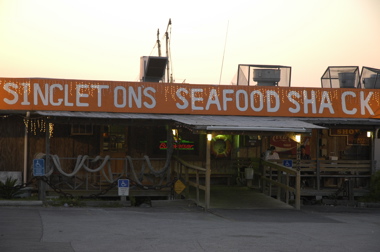 We have decided that our Open House/Happy Hour/Meet'n'Greet/Free Snacks events for blog readers and other friends will be next Friday from 1 pm to 2:30 pm, and Saturday 1 pm to 2 pm. We'll be in site I-46 at Ocean Lakes Family Campground. If I can find a flagpole kit for the Airstream, we'll be flying the Airstream Life flag. Come on over if you can.