One of our alert blog readers, Rob Baker, noticed that our route from Charleston to Myrtle Beach would take us up Rt 17 in Mt Pleasant. So he put a comment on yesterday's post to tip us off to the Jack's Cosmic Hot Dogs and we made a point of stopping there for lunch. There's plenty of parking in the back for an Airstream.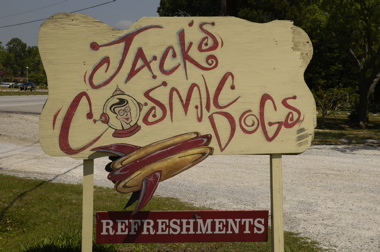 Rob was right, the Cosmic Hot Dog (blue cheese cole slaw and sweet potato brown mustard) was awesome. Emma opted for the Earth Dog (plain, with mustard). Jack's fries are pretty darned good too, thin and extra salty, and just right with a frosted mug of root beer.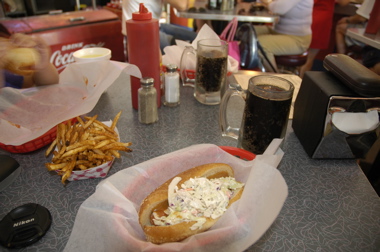 Suitably refreshed, we charged up Rt 17 a couple of hours to Myrtle Beach and pulled into the second-largest campground we have ever encountered. (The largest was Fort Wilderness, at Disney World.) It's a giant complex, with hundreds of sites for RVs, permanent residences, rental cabanas, etc.

Site I-46, oceanside
Our site is right smack-dab on the front row closest to the ocean. The boardwalk between the sand dunes is about 30 feet from our front door and the sound of the crashing surf emanates from perhaps 200 feet away. You couldn't be any closer to the beach than this. It's terrific.

The view from our front door
Yesterday Fred gave us a microfiber towel to use when washing the Airstream. The weather was spectacular when we got here (breezy, sunny, 80 degrees) and we were in settling-in mode, so I decided to try out the towel instead of hunting up a truck wash at $40 a pop.
It worked great. We used a small bowl of water with a big sponge and two drops of soap, to get the dirt loose. Then we followed up quickly with the microfiber towel. We changed the water eight or nine times and rinsed the towel two or three times.
The result was a pretty clean trailer with very little mess using just a few bowls of water. This means we can "stealth wash" the trailer at campgrounds that normally frown on it. Good tip, Fred!
Even though the rally doesn't start until Wednesday, there are already 30-40 Airstreams here. People who have met us at other rallies are stopping by to say Hi, and those who don't know us are cruising slowly by in their rented golf carts and wondering about all the stickers on our trailer. Eleanor and Emma have gone out for a few groceries (which is why Brett now calls our trip the "Tour of America's Grocery Stores") and we'll have pizza tonight while planning some fun for the rest of the week.