HOT hot hot …. over 100 degrees today as Denver valiantly completed the disc brake installation. Eleanor and Emma went off to do laundry and ended up in a non-air conditioned laundromat, which was certainly a mistake. But we had no idea it was going to get this hot.
Even though the trailer was plugged in and the air was running, the best we could do was keep the interior in the low 80s because people were coming in and out all day. I was rushing in to check email and then rushing out to discuss Airstream stuff with Rich C, David Tidmore, Denver, and Paul Mayeux, so it was a sweaty day.
The Kodiak disc brakes were on both sides of the trailer at the end of the day yesterday, so today's task was to install the Actibrake hydraulic actuator, the hydraulic lines, and the electrical connections. We decided to put the Actibrake in my bedroom closet. It was mounted up on the wall in a dead space. This keeps it clean and out of the weather, although the device is totally weatherproof so it doesn't matter much.
The Actibrake is the thing that actually puts pressure in the hydraulic lines to activate the disc brakes. It connects to the brake wire from the tow vehicle just like the old drum brakes did. So we can keep the Prodigy brake controller we have always used. Even though the Prodigy instructions say it is not designed for hydraulic disc systems, the Actibrake people have designed it to work with the Prodigy and a number of other brake controllers.
Just when Denver was wrapping up the installation, Tootie showed up from Centramatic. Centramatic makes a very cool product. They are aluminum discs that balance the wheel/tire/brake assembly of your trailer. See, you can balance the wheels but it doesn't do much good if the brake hub is out of balance. The Centramatic fixes that. You just drop it behind the wheel, and it automatically balances the assembly constantly as it is in motion. So, you never need to balance your wheels again!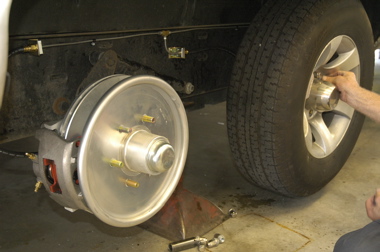 You can see the Centramatic on the left wheel above. It's the big aluminum disc that is blocking the view of our new brakes. A bunch of fine beads in a special lubricant spin around from centrifugal force and automatically compensate for unbalanced wheels. It's so simple. What a great idea.
So now our disc brake installation is done and we're looking forward to tomorrow's upgrades. We'll adjust and test the disc brakes on Thursday or Friday. I can't wait to see how they perform.
Tomorrow, the plan is to start on the solar panels and windows. Tonight, I'll be firing up the grill again for another dinner in the back lot of Roger Williams Airstream. (What strange places we find ourselves living!)