It has been a fantastic day in Death Valley, despite a slow start. I had hoped to get some hikes in the valley early in the morning, but Emma slept until 8:30 and by then it was already 85 degrees. I found out that the optimistic forecasts I was seeing from Las Vegas were actually for Las Vegas rather than Death Valley. Today's forecast temperature was for 101 degrees and it eventually exceeded even that, hitting 103 by mid-afternoon.
So we changed plans, and did just one valley hike, in Golden Canyon. The canyon is actually an alluvial fan (basically a lot of debris washed down from the mountains over millions of years), which was later cut by floodwater to create a canyon that is about 50-100 feet deep. It's a 2.5 mile hike, roundtrip, all uphill for the first 1.25 miles.
It was a challenge indeed to keep Emma entertained and motivated on this tough hot hike, but eventually she got into it, and with plenty of water breaks in the few spots of shade, we all made it up alive.
Let me tell you about water intake in the desert. Don't take chances. Even standing still in the desert at 80 degrees, you will need a lot more water than you usually consume, just from the dry air. Imagine hiking uphill in 90-95 degrees in full sun. We took over a gallon of water with us on this short hike, and drank it all before we reached the end. For a day, the Park Service recommends at least one gallon per person, but frankly I consider that minimal. We started drinking water in large quantities from the moment we woke up and didn't stop until bedtime. We kept several gallons (in individual 16-oz bottles) in the fridge at all times, and were constantly replenishing the supply.
Back at the trailer at 2:30, it was 101 degrees inside with both vents running on high, and the awning out. Relatively speaking, this was OK, since it was 103 outside. But our refrigerator couldn't keep up. It got to 56 degrees inside, and our milk started to spoil. I have known that most RVs don't have adequate refrigerator ventilation, and have intended to install a small fan to help with that issue, but never got around to it. I may be talking to one of the next dealers we visit (Mountain Family RV in Reno NV, or George M Sutton in Eugene OR) about it soon.
I can't be too hard on the refrigerator, though. Everything in the trailer was hot to the touch. We ate lunch (with lots of drinks), stripped down to underwear, and then took a short siesta on the hot beds.
I woke up at 3:30 absolutely roasting alive, and thirsty again, and decided that it was time to throw everyone in the shower. We didn't need the water heater. We found that running the coldest water we had, the bathroom filled with steam. It was the heat of our bodies that did it "" the water was actually steaming off our hot skins!
We let ourselves drip dry instead of toweling off, and stood under the fans for maximum chilling effect. Wet towels on the floor helped cool the lower part of the trailer by evaporation, and we used the melted ice water from our drink cooler to chill our feet. We also soaked hand towels in the ice water and draped them around our necks.
It sounds funny, but all these tricks worked great. We were completely comfortable when we were done playing with the water. But we knew it wouldn't last, so we piled in the car and headed for Dante's View, 5000 feet above the valley floor.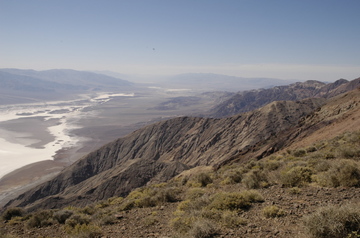 Dante's View. Click for larger
Higher altitudes are where you want to spend your time in Death Valley this season. Dante's View was clear, gorgeous, and beautifully cool at about 78 degrees. On our short hike up there, we spotted a horned lizard and zebra-striped lizard, which were useful for Emma's Junior Ranger workbook.
In the picture above, you can see the dried salt creeks snaking across the valley floor. Death Valley has no natural outlet, so minerals washed down from the mountains collect permanently, leaving a "chemical valley" of borax, salts, and various other chemicals that can pickle any creature that is unfortunate enough to die there.
After Dante's View, we dropped in on Zabriskie Point, and 20 Mule Team Canyon. The latter is a 4WD road which passes some of the many abandoned mines in the park. It's worth the short loop if you have a high-clearance vehicle. We didn't need to engage 4WD to do the drive.

4WD road: 20 Mule Team Canyon
Then it was off to Artist's Drive, another one-way loop road, accessible to all vehicles under 25 feet long. This is a fun rollercoaster ride past some pretty colored layers in the valley walls.
Solar note: Our system of parking for afternoon shade seems to be working. Even with one panel blocked in the late afternoon, we are generating more power through the solar panels than we can use, even with the two Fantastic Vents running 24 hours a day. We will have no shortage of power on this trip. Yesterday Rita (blog reader) asked if there was a way that solar could power an air conditioner. Unfortunately not. We knew going in that we would be reliant on fans.
We've noticed that the park seems dominated by Europeans this time of year: German, French, British, and eastern European (Czech? Poland?) I'm not sure why they want to come to this hard part of the world in the hot season, but they are undeniably here in significant numbers, renting Class C RVs and even pitching tents in the scorching heat.
Eleanor and I have tent camped in Death Valley before, but not in this heat. It would be a tough slog. The campground offers no showers, only a low water spigot. I have seen the young foreign students on holiday soaking themselves at this spigot. At 8 pm last night it was still in the upper 90s and I was grateful we had the distractions of a movie ( "Chronicles of Narnia: The Lion, The Witch and The Wardrobe"), a good grilled dinner, and cool showers before bedtime. It made the fierce conditions more bearable.