I have to say that choose the twisting, roller-coaster road that is SR 299 through California was a great decision. (Rich C says it's a better decision for people with disc brakes, which he doesn't have — yet.) The road follows the Trinity River past dozens of beautiful campgrounds, river rafting companies, fishing spots, and generally fantastic scenery.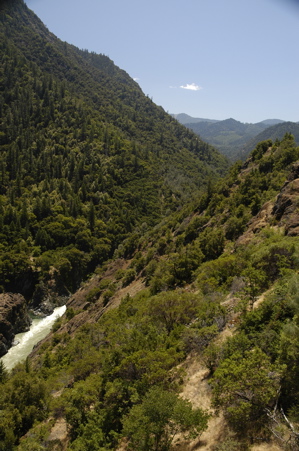 The water is dam-controlled, and the release schedule called for lots of water last week and this, so river rafters were having a great time. We really wanted to stop and catch a rafting trip, but with our reservations at Humboldt in place, we decided to press on. That's the problem with firm plans. That's why we generally avoid making reservations!
We swung through Eureka to pick up our mail (a familiar post office, since we got mail there last November, the day before Thanksgiving), and then headed straight down Rt 101, "The Redwood Highway" to the park. It is just as amazing and beautiful as we remembered it.
One thing we forgot, however, was how dark it gets in the redwood forests. Rich C arrived ahead of us and scouted out a nice spot for us. (The campground has very few sites that will comfortably accommodate a 30-foot trailer.) As you can see from the picture above, we won't be getting much solar power.
Rich C was shocked at how little sunlight reached the ground. Inside the Airstreams, with the tinted windows, it is so dark we need lights all day long. But just a few hundred feet away in a clearing, brilliant bright sunlight is pouring down. It's strange.
We feel like hobbits in here. It is quiet and primeval in the forest, but also a tiny bit spooky. The scale of the trees and even the stumps dwarf us.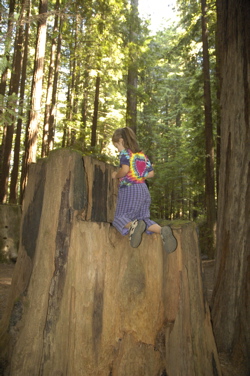 We are pretty sure we are going to reserve a third night (Sunday) so we have plenty of time to hike and explore the area. But that's going to be the limit. Rich C came over this morning to say, "I like it here, but if we spend too many days here I'm going to get depressed [from the dark]!" which is pretty much what we all were thinking.
Last night we did a short nature trail hike (0.6 miles) and checked out the excellent Visitor Center, and today we have a couple of hikes in mind. Rich C wants to go get a re-supply of his Jelly Bellys (jelly beans) today, and we might even go check out a light house. We're winging it.
This blog entry comes to your courtesy of Rich C, which spent half an hour last night wandering around the campground with his cell phone to find the best signal. He lucked out and got online, and I'm stealing his wifi signal from 200 feet away, with my Linksys repeater running off an inverter in the Nissan. That means I should be able to update the blog again tomorrow.