OK, the Summer magazine is almost off to the printer and after a few hours of work this morning I was able to slip away between layout reviews. I had heard of a local creamery that specializes in blue cheese, down in Central Point, and we all love blue cheese, so …
The creamery store is small and there's no tour, which was disappointing, but the blues are very interesting. If you don't like blue cheese there's some cheddar and muenster, but nothing worth driving out of your way for. Blue is what this place is about. We tried them all and settled on the Oregonzola and a little of the Pesto Curds. We liked the Smokey Blue too but decided one blue was enough for now. They also have Oregon Blue, which is somewhat like a Stilton, and very sharp.
Thus primed for culinary adventure, we headed over to Harry & David's headquarters to take the tour ($5 per adult, applicable to purchases over $35 after the tour.) They shuttle you from the Harry & David Country Store a couple of miles down to the facility. The tour is pretty good, especially since they hand out boxes of cookies and chocolate. It includes some of the bakery facilities (baclava, cookies, cakes, popcorn, etc), chocolate facility, call center, and their demonstration rose garden.

The cookie line. Click for larger
The way they identify different classes of workers is by the colored hair nets. The lady pictured below is a supervisor. Supervisors have to be able to speak Spanish.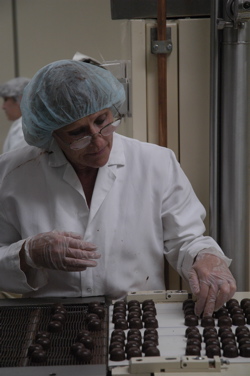 Of course, the tour ends back at the store and then it's mandatory to buy a whole bunch of stuff … isn't it? Eleanor had no trouble filling her basket with enough goodies to surpass the $35 minimum (to apply the $5 discount).
Tomorrow we'll pack up and head to Crater Lake. I am pretty sure we can't get online from where we'll be, but I'll update as soon as possible afterward.