I'm also experimenting with another possible feature of this blog. If you've heard of Google Earth but haven't tried it, get a copy soon. It's really spectacular. You will need broadband Internet and a recent-model computer to use it, however.
You can install Google Earth from this link. It's now available for PC and Macintosh. Here's Google's own description of it:
Google Earth streams the world over wired and wireless networks enabling users to virtually go anywhere on the planet and see places in photographic detail. This is not like any map you have ever seen. This is a 3D model of the real world, based on real satellite images combined with maps, guides to restaurants, hotels, entertainment, businesses and more. You can zoom from space to street level instantly and then pan or jump from place to place, city to city, even country to country.
I have used Google Earth to create a "placemark" for the location where we have parked the Airstream. The placemark comes in the form of a ".KMZ" file, which you can download:
Download our current parking location here!
If you have Google Earth, opening this file should allow you to instantly "fly" right to a view of our parking spot! Very geeky … and fun!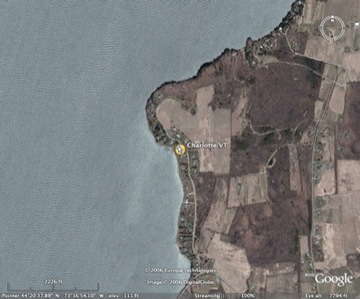 Now, keep in mind this is just an experiment. I won't be able to do this every day because I won't always have broadband Internet (Google Earth won't work without it). But, if you like it, I'll try to post some of our more interesting camping locations.
Another thing to keep in mind is that the satellite imagery you'll see on Google Earth is not real-time. So you won't see our Airstream. In fact, the image for today's parking spot appears to be at least 15-20 years old. The road has been paved since this image was taken. But, it's good enough for a general idea of the setting.
Try it out and let me know how it works, OK? Thanks!