It has started. I got a peek of foliage when we were up a thousand feet in the Adirondacks last weekend, but now the foliage has started even down here in the Champlain Valley. We're in the "banana belt" of Vermont, so if we can see trees turning here that means it's beginning all over the state. So far the colors are good (nice and bright) and at this rate I would expect a peak in a valley's foliage around Oct 1-6.
I took a walk after work yesterday, down the road which I walked every day for a couple of years in high school to catch the bus. Things have changed since then, of course. Now many of the little ranch houses along the lake have been replaced by McMansions with huge vegetation barries to give them more privacy. But at the end of the road, a massive red barn still stands. It has not been used as long as I can remember, but the owners still paint it once in a long while, and it has become such a landmark on the road that I can't imagine the local residents ever allowing it to be torn down.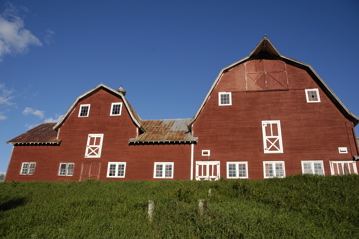 The weather was spectacularly crisp and clear — a classic Fall day in Vermont, the kind that sends the Vermont Life magazine photographers scurrying out to capture images for next year's magazine.
My walk took me down to a small covered bridge a mile away by the Town Beach. This bridge is full of memories … good summer days climbing among the beams with my friends, and one bad day in the winter when a 10-year-old friend fell through the spring ice and disappeared, swept away by the current. I can't ever see this bridge without remembering that. The tourists who come through are lucky — they can see the bridge for what it is: an innocent and historic little piece of architecture in a quiet idyllic setting.
We'll be getting out & about in Vermont in the next week hopefully, and this will give Eleanor and I a chance to spot some foliage, if the weather cooperates. Although today is perfect for that, it's still too early, so we plan to spend today at the storage units, once again culling out stuff. Eleanor spent a few days this week dropping off things with friends, and four boxes of trash went out yesterday, so we are getting close to our goal. Another three or four sessions and we should be ready to consolidate the two storage units into one.