It was in some ways an unusual Thanksgiving Day. Everyone attending except Brett, who hosted the event, is currently living in their Airstream. Barry came over with a 4×8 sheet of plywood from the house he's building, which we rested on an ottoman and covered with a giant white tablecloth. That was our table. Emma decorated the tablecloth by drawing pictures all over it with her markers, and then we all sat, cross-legged, on the floor to enjoy an enormous feast.
And it was a spectacular meal, followed up by homemade pies and ice cream. Eleanor's two days of effort in the kitchen were really appreciated by all.
The leftovers have been distributed to everyone. Bert and Janie managed to snag a lot of the apple pie, so I may be over at their trailer for breakfast. We've all got turkey, green bean casserole, onions in cream sauce, two kinds of cranberry sauce, gravy, an incredible stuffing, and pumpkin pie. (Even the plywood became a leftover of sorts: it will end up as part of the subfloor in Barry's bungalow.)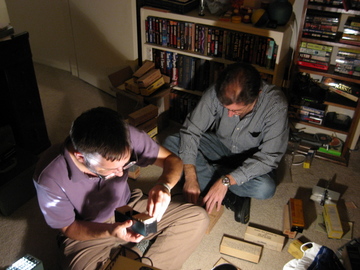 A few weeks ago we bought a large collection of Kodachromes from an Airstream owner's estate. These slides were mostly scenic images of national parks, but a few depicted Airstreams at rallies and on a caravan to Mexico in 1958. So for a while before and after dinner, Barry and I sat down with the slide projector to review each slide.
Of 1,300 slides in the collection, we ended up with about 25 good ones. They're all unique images that have never been published before. We'll get them scanned and you will see them popping up in future issues of Airstream Life magazine.