On the way back from the Everglades we stopped in to see fellow Airstreamers Terry and Marie in Cape Coral. Terry had noted that our streetside tires were getting a little thin, which is not surprising given the 30,000+ miles of towing they have experienced. (The curbside tires are nearly new, since both were replaced during our various debacles this summer.)
So Terry arranged for a pair of new Goodyear Marathons to be waiting for us in Cape Coral on Saturday, and he opened the repair shop where he works, just for us. I figured this would be a quick 30 minute trip in and out, but when Terry took off the wheels he immediately spotted worn outer brake pads. We were very close to having no pads at all, so replacement was mandatory.

A cracked and worn disc brake pad
The Kodiak disc brakes we have use a GM pad, which fits a Buick Cutlass or the equivalent Chevy. Primed by Terry, I walked into the local auto parts store and requested two sets for "a 1986 Chevy Celebrity without heavy-duty brakes," and after trying three or four stores, we found them in stock and Terry popped them on.
I called David Tidmore at Roger Williams Airstream, where the brakes were installed last May (roughly 15,000 miles ago), to double-check on the pad choice. He agreed with the brake pads and noted that Kodiak has gone to ceramic brake pads for better wear life. We couldn't find ceramics in stock anywhere, but next time I'm going to order them. We seem to find ourselves going down a lot of steep grades out west …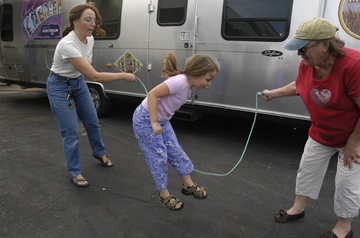 Emma, Eleanor, and Marie found ways to entertain themselves.
Terry, being an Airstreamer and a mechanic of many years, did it right. He uses Torqstiks on his air wrench to control the amount of torque it can apply to the nuts, and then finishes the job with a very cool digital torque wrench. The Torqstiks are calibrated to twist just the right amount to prevent over-torquing the nuts. I checked the nuts three times on the way home with my torque wrench, and so we managed to get back to Tampa with all four wheels still attached.
A few stats for our maintenance-minded folks: the tires we took off had >30,000 miles on them. The rear tire showed about 6/32″ tread remaining, which is marginal, and the front tire showed 7/32″. We've noted the rear tires do wear a little faster. We could have left the tires on a few thousand more miles if we cared to push it. The new tires, for comparison, come with 10/32″ tread. The ones on the curbside, which were installed about 5,000 miles ago, show 9/32″.
The trailer is now parked in its storage location for the next week. We're packing bags for a trip to Vermont. The next week of our blog will be reports from the cold, windy, rainy northeast, but I do plan to get over to Plattsburgh NY to see some interesting trailer activity going on at Colin Hyde's shop.