The brochure says this is "one of the best examples of Florida's Gulf Coast barrier islands," and I would have to agree. Too many of Florida's beautiful barrier islands are completely overgrown with hotels, motels, condos, tacky shops and traffic. Ft Meyers Beach is a sad example. But a few great spots remain relatively unmarred, and the northeastern tip of St George is one of them.
Here the state park preserves nine miles of white sand beach, dunes, slash pine trees, and bird life. Sea turtles nest on the beaches at night in the spring and summer. The road only extends for five miles (to the small campground, 60 sites), and that means you have another four miles of quiet beach to walk.
This time of year, solitude is easy to find. Even the developed part of the island is deserted. The local zoning prohibits the type of hyper-development that has trashed other barrier islands, and apparently few people are interested in renting a beachfront home in December, even though it is gorgeous here. I suppose if I were facing typical weekly rental charges of $900-2,500 at this time of uncertain weather, I'd think twice too, but our stay in the Airstream is costing us just $25 per night "" and we get to stay on the most beautiful part of the island!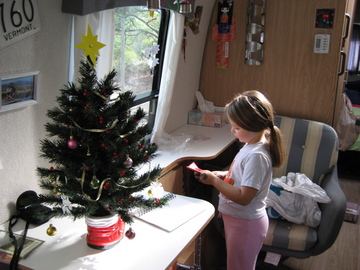 Today Eleanor and Emma are staying in to decorate the trailer for Christmas. But later this afternoon we will step out to explore a little, and so I can get online to post the blog. It's a challenge to get online here. We are on Verizon's "extended network" which is code for "you're not going to get online." The local Subway sandwich shop has an open wi-fi network, but yesterday I was told that I had to buy a six-inch sub before I could use it, because "it costs us money to offer this service." I think that's the height of foolishness. It costs hardly anything to provide free wi-fi and it's done by many businesses as a goodwill gesture.
When we need to get online at a café or shop, it's our policy to buy something to show our appreciation for the free wi-fi. We've done that many times, across the country from Crescent City CA to Sarasota FL. Usually we go to Panera Bread for their excellent combination of good food & coffee, fast Internet, and comfortable seating. Panera Bread is great.
In this case, the Subway store was completely empty except for me and the two staff, and I had already bought a medium drink for $1.37 when the Subway staff informed me of their policy. The wireless signal, which I had seen only minutes before, disappeared too "" I think they actually turned the wi-fi router off to keep me from using it! That's just dumb customer relations. I went down the street and used one of the many other open networks available. The St George Island Subway won't be getting my business again.
Emma has begun a journal of bird drawings, using a blank book given to her by a friend in Vermont. So far it contains sketches of a hawk that she spotted at Barry's, a finch that she saw here, and a penguin. Since this is a good birding spot, I'm hoping she'll get a chance to draw an osprey, or a bald eagle. She'll certainly see cranes, sandpipers, pelicans, and other common seaside birds. A cold front is coming through as well, and supposedly that increases the opportunities for spotting migratory birds.
We heard from many people on the subject of our upcoming visit to Ruston. Jody says we've caused a run on the peaches, but they won't be ready until June. The funniest comment came from Brad: "I have you tentatively scheduled to give a talk here in Charleston at the convention center. The subject is, of course, Ruston and environs."