We decided to take a few days in Austin, because we liked it here so much last time. Part of the fun is Pecan Grove RV Park, a funky oasis in the middle of Austin. This is an old-time park that the city grew around over the years, and one of the last RV parks where you can camp just blocks from downtown of a major city. It has a mix of permanent residents and transients like us, plus a few eccentric millionaires. Right down the row, Matthew McConaughey keeps his Airstream, but he's not here at the moment — he's in Australia shooting a movie.
Another feature of this park is an abundance of Airstreams. For whatever reason, Airstreamers are attracted to this place, and there are at least a dozen parked here, accounting for a sizeable fraction of all the trailers in the park. The drive over from Blanco on wet roads left our Airstream looking grim with streaks of dirt, so we're currently the shabbiest looking unit here. If we don't get some rain tonight I may sneak out and do a little washing.
This park, and the one next to it are endangered. Once at the outskirts of Austin, they are now sitting in the midst of prime real estate and hungry condo developers are making offers. In a few years I would expect them to be gone, so enjoy them while you can! Many others are, and the parks are full much of the year. We got the last spot this week.
This evening Gunny came over and we headed out for dinner at a local chain called Rudy's for barbecue. Rudy's is sort of unusual. You pick up everything a la carte and make your own meal from the pieces. Free samples of everything except meat on the bone (ribs). If you want a sandwich, you get some bread and whatever you want in it. No waitstaff either, and you bus your own table. All the seating is family-style with folding chairs. It has no frills, but there's good food and a fun atmosphere.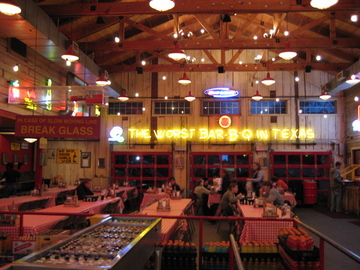 Rudy's slogan: The Worst Bar-B-Q In Texas
Once we were seated one of the staff dropped by with three free cookies for dessert. He told Gunny that his was the best jacket they'd seen all evening. Gunny's jacket says "US Marine Corps" on it.
We'll stay in Austin for a few days. There's work to be done and more friends to be seen, plus I want to get over to Lamar Street at night to photograph some of the great neon signs over there.