This morning I met up with Liz Lambert at Jo's Coffee. Liz is the owner of the retro-cool Hotel San Jose on South Congress Street (just a few blocks from Pecan Grove).
I hooked up with Liz because she's interested in vintage trailers. So much, in fact, that her current project is to refurbish a bunch of old Spartan, Vagabond, and other 50s and 60s trailers, put them on 15 acres of land in Marfa TX, and sell them as condo units. I interviewed her for the magazine, and we'll drop by the project in the next few days.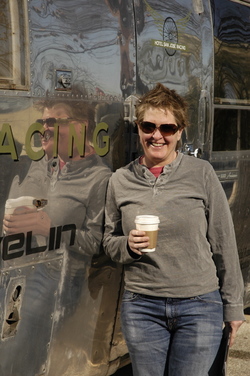 Liz's hotel is also the major sponsor of a bicycle racing team. They use this Airstream to transport their bikes and equipment.
We couldn't get another night at Pecan Grove, so we hitched up and moved out to a courtesy-parking spot by Lake Travis, at the home of Myron F. A beautiful spot, but we hardly had a moment to enjoy it before it was time to head off to the Lady Bird Johnson Wildflower Center to meet John for a personal tour. John, another Airstreamer, volunteers at the center and is on the Board of Directors.
The wildflowers aren't in bloom this time of year, and many of the plants were dormant, but thanks to John's interpretive guidance, it was still interesting. The architecture and design of the buildings and landscape are excellent. The center also boasts one of the largest rainwater collection systems in the world, which you can see a small piece of in the picture above. Giant 10,000 gallon cisterns made of native stone hold the rainwater. Since it's off-season, entrance to the center is free this month.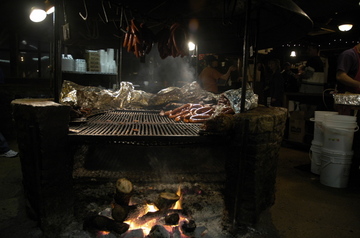 Tonight we met up with my old friend Vicki, who moved down here about fifteen years ago, and took her out for dinner at the Salt Lick in Driftwood (just outside Austin). We were here last year. It's a great spot for barbecue. It's so popular on weekends that they have to enforce a 90-minute limit for diners. We used up every minute catching up with Vicki, and another hour in the parking lot outside.