Work was going so well this morning until Bert showed up around 11 and said, "Let's go for a hike!" It was a beautiful day, heading into the 80s, and my resolve was weak. So Emma and Zoe the stuffed cat and I threw on our boots and joined Bert & Janie on the Douglas Spring Trail of Saguaro National Park.
(For background, you should know that Zoe the cat comes with Emma on every major hike. She rides in Emma's backpack with her head sticking out. Zoe has seen more national parks than some national park rangers. She's a very lucky orange stuffed animal.)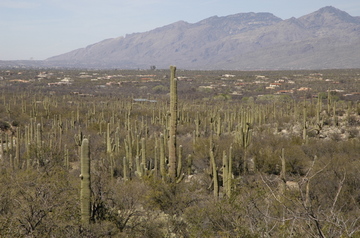 Saguaro forest and the Santa Catalina mountains
Douglas Spring Trail to our destination is 5.2 miles roundtrip, with 1100 feet of elevation gain, "strenuous and rocky," according to the official park guide. At the trailhead someone warned us that people had spotted "snakes on the trail" this morning, to which we all grinned and thought, "Bonus!" We've been hoping to spot a rattlesnake from a safe distance, but thought it was too early in the season to have much of a chance.
So I reminded Emma of what to do if a snake appears or is heard (more likely), and we headed up the rocky trail. No snakes, but plenty of saguaro forest, early desert flowers, and heat. Our greatest challenge was making sure we were all well covered with sunscreen. It was a long slow slog up the slope and I was glad I'd brought a pair of water bottles for each of us.
Ultimately it reached 85 degrees in blazing sun, but of course with the extreme aridity the sweat would dry on our bodies in seconds. We found a shady spot by a tiny bit of water with cool rocks and made that our turnaround point for the hike. Sitting on the rocks was enough to make me extremely comfortable, but Emma went the extra mile and dipped her shirt and hat in the water, wrung them out, and put them back on. Her cotton shirt was dry before we got back to the truck.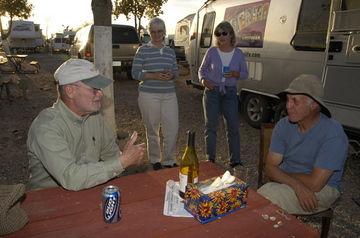 Charlie, Lynn, Janie and Bert outside our trailer
While were gone we found that Mike & Tracy had come by, but we missed them. (Eleanor was out grocery shopping.) But not long after we arrived back at camp, our friends Dr. C and Lynn showed up, and so we gathered up Bert & Janie and went out for dinner.
I was particularly happy about this fortuitous meeting because Dr. C and Bert have both been contributors to Airstream Life since the very beginning of the magazine, and I had not until now had the chance to introduce them to each other. We're all leaving Tucson this week, so this was our only chance to hang out together. Dr. C and Lynn are heading back to their home in the frozen north on Friday, and Bert & Janie are heading down to Organ Pipe Cactus National Monument where we will see them on Monday.
To see Bert's recent blog entries about our hikes in Saguaro, see www.gildartphoto.com/weblog