We are getting closer to escape! Today we had the floor tile team arriving at 6 a.m., the handyman at 9 a.m., the painter at 10 a.m., the gas plumber at 2:30 p.m., and the drywall guys at 4:30 p.m. Three projects completed, two estimates received. An average day lately.
We got lucky again with the painter. He was recommended by our neighbor across the street, and turned out to be a great find. He had a free man today, and after we accepted his price for repainting the trim on the back of the house and the concrete block wall that borders our back yard, we had a painter working on site in less than an hour.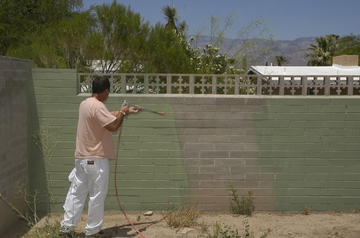 The block wall wasn't on our "to do" list but it was quick and relatively inexpensive to get done. The cement-gray wall made our back yard look like a prison yard. We picked a friendly green and in 30 minutes it was done. Later, when we put some cacti and bushes in front of it, it will hopefully be less of an eyesore.
While I was in the back yard digging out buried drainage holes in the block wall, a neighbor came running over to announce that a rather large snake was roaming near our front yard. It turned out to be a Bull Snake, about four feet long and very pretty.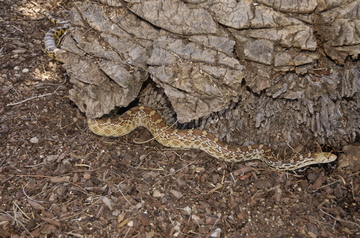 This snake likes to mimic the Diamondback Rattlesnake. The markings are vaguely like a Diamondback, and he demonstrated his ability to shake his tale to make a rattler-like sound (although he doesn't actually have rattles). When confronted, the snake also hissed quite a bit, and coiled up like a rattler.
The snake wandered over to our neighbor Carol's house and eventually found a nice hiding spot by sliding under her utility room door, which didn't make her too happy. Carol says she's never seen a snake in the neighborhood in many years of living here, so it was just lucky we saw this one. She called the Fire Department and Animal Control to see if they'd remove it. They will do that with venomous snakes, but the Bull Snake is harmless.
Fortunately the housepainter is a fan of reptiles and he captured it easily with a trash-picking tool and a 5-gallon paint bucket. He, another neighbor, and Eleanor relocated it to a more appropriate spot without harm done.
The tile team made a lot of progress too. The tile is, as we expected, making the existing white walls look like hell. We'll deal with that this fall, by adding some color to the interior walls.
I estimate about 70% of the square footage is already down. But the more time-consuming tile cutting and grouting are still to be done. We are looking good for tile completion by Sunday, which means we can head out on Monday.
That's if we don't collapse first. The workload has been incredible for Eleanor and I, between logistics, problem solving, juggling contractors, and managing our usual duties (the magazine and Emma). We fall into bed at 9 p.m. every night and wake up at 6 a.m. (I never thought we'd do that. Are we that old?)
On Thursday I hope to be free enough from overseeing contractors to develop our "escape plan". It's getting into high season for the national parks in northern Arizona and southern Utah, so there are a few logistical considerations. With an hour or two to consider and browse the park websites, I should be able to work out the plan.
No matter what we do, I think our first few days on the road will be very mellow, because we're going to be in recovery mode. Fortunately, the Airstream is the perfect vehicle for that. Can't wait!