We've been researching things to do in the central Georgia area since my blog of last night. Denese Lee, a friend from South Carolina who is here at the rally with her husband David, read the blog and took issue with my statement that there was little excitement in Perry. She recommended the local Museum of Aviation, which is located about 20 miles away at Warner-Robins Air Force Base.
Funny coincidence, since I got Denese's email about an hour after we had spent most of the day at exactly that place, with Fred and Renee. The museum is very good, with dozens of aircraft and other excellent exhibits. The fact that it's completely free is a huge bonus.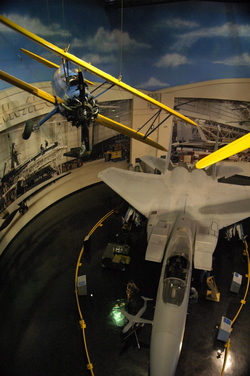 F-15 "Strike Eagle" and Stearman PT-17 Kaydet
The exhibits include five buildings full of aircraft (including a SR-71 and B-1B bomber), several acres of aircraft outdoors, a theater, and exhibits on the Flying Tigers, Art of Flight, WW II, Korean War, General Robert Lee Scott, Jr. (a native son of Georgia and military hero), and several other topics. For aviation and military history buffs, this museum is well worth the small detour off I-75.
We stopped off for lunch at an "all you can eat pizza buffet", a sort of restaurant I've never encountered before. I snapped a quick shot of the lunchroom before sitting down and later discovered that someone was checking me out as I did it. Sometimes that happens. It's always fun to find these little surprises when I'm reviewing photos on the laptop later.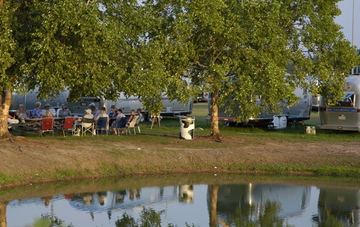 Back at the rally grounds, not much seems to happen in the searing heat, but once the sun begins to set, people appear in groups near the Airstreams for the evening happy hours. This is a rally tradition that won't stop despite a few gnats and high humidity. Things are slowly gearing up for the bulk arrival of the rest of the Airstreams, which should begin on Tuesday and Wednesday. The quiet period of the rally is about to end.