It's time to shift gears again. Having done three days of essay-writing, the blog will go back to the usual sort of entries, while I digest what I've learned from the many comments I've received (including lots of private emails). Thank you all for your help.
Another shift will be in our location. We have been parked in my parents' driveway for several weeks, including the time I was down in Perry GA attending the International Rally. We're going to move to a small campground near Vergennes VT for a while. The location is more convenient for Emma's upcoming swimming lessons, but equally importantly, being in the campground will give us some space to host friends who are dropping in next week.

A huge flock of cormorants on Lake Champlain
I have avoided talking about the mundane tasks we've been doing since I got back from Georgia. Those of you who have read the blog for a while probably recall the drudgery of clearing out our storage units. We spent five weeks last summer working down from two 10×20 units to one, by giving away stuff to charities and via Freecycle, selling things on Craigslist, auctioning furniture, and donating things to friends. (You can read about this process in our August 2006 archive, starting with August 22.)
The job this summer is to get from one very tightly packed 10×20 storage unit down to half a unit. We conducted an evaluation and discovered that the cost of moving many of our possessions 2,500 miles west exceeded the replacement cost of those items. Moreover, after two years with minimal possessions, we've become even more religious about the need to pare down. We don't want to fill up the next house with a bunch of stuff from the old house. Half a storage unit will mean we are down to the essentials: photo albums, a few basic pieces of furniture, my collection of Airstream Life magazines, tools, some extra clothing, kitchen stuff, and a few irreplaceable items.
So far Eleanor and I have had about four mutual sessions at the storage unit and she's been there independently several other times. This Saturday will be the big push. We're expecting to see buyers for our remaining living room furniture and a bunch of people from the local Freecycle group who want various household items. If we are lucky, after Saturday we'll be ready for the movers to come in and quote the cost of getting the rest over to Tucson. I'm hoping to keep the moving budget under $2k.
There are some items in storage which cause me to stop and think. What to do with my old cross-country skis? What about my fabulously warm LL Bean winter parka (so warm I can only wear it when the temperature is below 20 degrees)? Winter boots? Ice skates? Autumn rain coat with zip-out lining? It's easy to say I should just get rid of these things, but we do come back to New England regularly and I may want them. Most likely I'll try to find a local friend or relative willing to store them for me up here.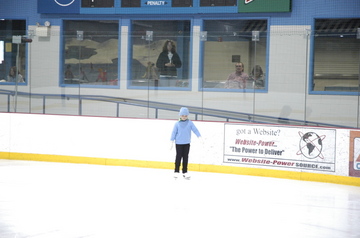 Emma skates while her mother and grandparents watch from the gallery
Except for the ice skates … Emma has been taking skating lessons since she arrived in Vermont and seems to like them. It's good for her to practice something that encourages grace and coordination. We'll probably have find a skating rink in Tucson, and that means I'll be asked to get on the ice too, so as unlikely as it seems, we will move pairs of ice skates to the desert.
For all the complaints out west about excessive heat and extended drought, it has been exactly the opposite here. It has been unbelievably gray and rainy for July, and we have not seen a day over 80 degrees since I arrived two weeks ago. No wonder my window air conditioner is not selling on Craigslist. Most days I wear a fleece while working at the computer until mid-day when it warms into the 70s. It's nice that we have needed neither heat nor air conditioning, but this is not the sort of summer we usually get.
Since summer in northern Vermont really starts to decline by mid-August, this is slightly alarming. It won't be long before the days start becoming noticeably shorter, and the county fair season kicks in, signifying the last hurrah before summer's end. For northern Vermonters, it's July or never, to get a few hot days to brag about later in the season. This year looks like a bust.
What we really need is a few hundred Airstreams parked nearby to create a local heat effect. When the International Rally was here in 2003, the temperature spiked at about 100 degrees, and that is a historic event indeed up here. It hasn't been so hot since.
The heat spike seems to occur wherever the International Rally is held, causing many to speculate that it is caused by all the shiny aluminum. In Salem OR last year we had three days of 103 degrees, and the locals were flocking to the local rivers in their desperation to escape the heat. In Perry GA of course it was hot but who would expect otherwise in Georgia that time of year? I will be interested to see what happens in Bozeman MT next year — but probably from afar.
One last gear shift: Airstream informs me that the very last Safari 30 bunkhouse (like our trailer) has finally been sold from dealer inventory. These trailers are really special because they are the only Airstream trailers ever made with two permanent bedrooms. Only 80 were made in 2005 and 2006, and now they are all in the hands of happy owners. It is a shame that this trailer didn't become more popular because it is uniquely suited to the needs of full-timers with children or a need for office space. If you want one, you'll have to find one used now.