I believe this is the third or fourth time we've stopped to visit with Lou and Larry in Ohio. We always park in the side driveway, wheels close to the grass, where we can connect to the house power and pick up their wifi signal. Everytime we have visited, they make us dinner and in the evening their daughter comes over with two clever dogs who end up as the center of attention.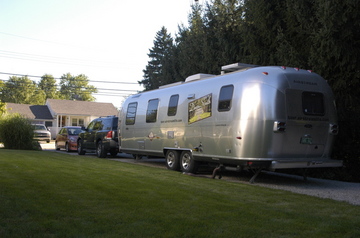 It has been like this ever since Lou wrote to me out of the blue, as many people do, and invited us to stop in on our way to Jackson Center. Every time we have accepted such an offer, we have made new friends, and many of them have ended up being people we see again and again. For this reason I am already regretting that we won't be able to accept several invitations to stop in Iowa, Michigan, and Wisconsin. Those are lost opportunities of a very significant sort — friends we won't be able to make this time through.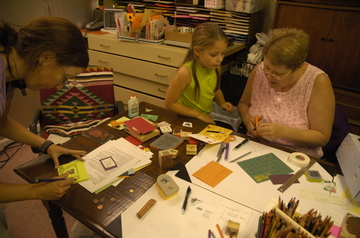 As soon as we arrived today, Emma and Eleanor were immediately enticed into Lou's basement rubber-stamping headquarters, where they all became absorbed in the task of making some cute greeting cards. Larry and I were left to go fetch fresh sweet corn for dinner and discuss all types of Airstream-related topics until the cards were, finally, all done and dinner could be served.
Another Airstreamer has appeared this evening, too. Dan lives nearby in Ohio and is parked in another driveway (Lou and Larry have access to several driveways on this street). Another Airstream or two will arrive tomorrow, along with about a dozen Airstream owners who are coming without their trailers, for a mini-rally and potluck dinner Saturday night. We've never been part of a "driveway rally" before. It should be a great weekend.