One night in Rocky Mountain National Park is like one bite of a chocolate cake. We'll come back for seconds, the next chance we get.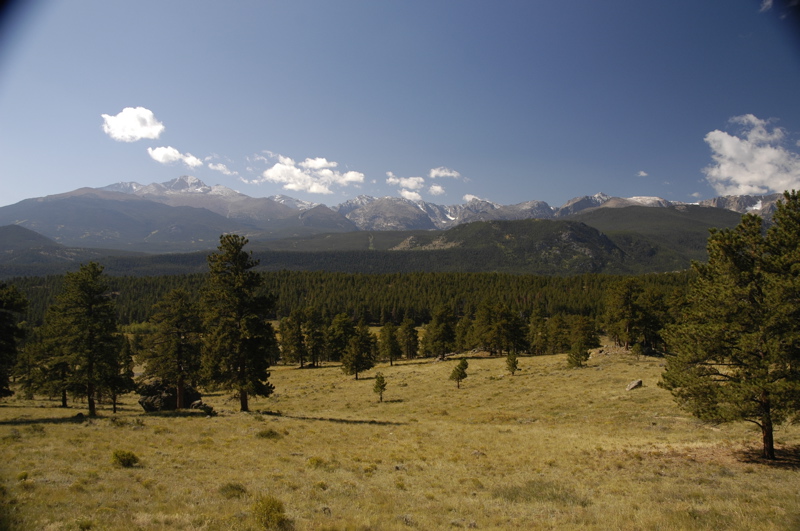 We swung the Airstream down Rt 34 from Estes Park, down through the tall walls of Big Thompson Canyon and eventually out to Loveland and I-25 again. Our destination was Cheyenne, to meet blog readers (and Airstream Life fans) Jay and Cherie.
I've corresponded with Jay from time to time over the past couple of years. We've had a few near misses of their Airstream Safari 23 and ours, but never quite managed to get together. Finally, they were home for a while and it seemed an ideal opportunity to meet. Unfortunately, they don't have courtesy parking, but Jay called over the Sierra Trading Post, which has plenty of RV space, and got confirmation that we'd be welcome to spend the night in their lot.
We've never unhitched the Airstream in these circumstances. Normally when we park overnight in a non-campground environment, we leave the trailer hitched up to the truck. But since we had permission, and needed the truck to get to Jay & Cherie's house, we broke the rule this one time and left the Airstream alone, wedged among a row of UPS trailers at the boundary of the parking lot.
This gave me an opportunity to think about security for the trailer. We leave the "stinger" of the Hensley hitch locked into the trailer with two padlocks. This prevents it from being removed. It also makes it virtually impossible to hitch a truck to the trailer without breaking the locks. But the trailer could still be broken into, so the best security is to be in a safe environment. This parking lot is lit all night and the warehouse operation runs 24 hours a day, which helps a little.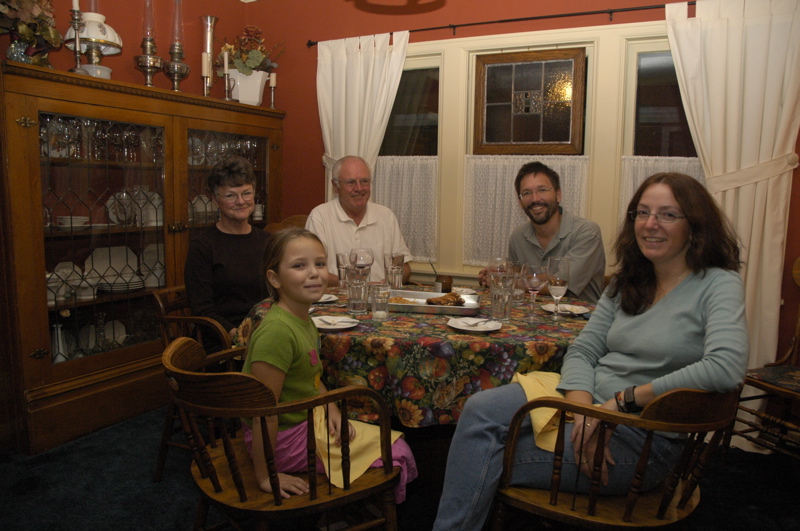 Notice I'm in the picture this time? That's twice in the past week that I have borrowed a tripod from our hosts and taken a group shot with the timer. I may have to start hauling my tripod to dinners from now on.
Jay and Cherie gave us a wonderful dinner, and afterward they were full of useful information for planning our route through Wyoming. This was very helpful because I realized something absolutely fabulous today: we have no deadlines or scheduled events for the foreseeable future. This is almost unprecedented for us — since we began traveling we've always had something out on the schedule to think about down the road. It might be a rally, a meeting, or a weather deadline, but something was always there to be thought about.
But in the past few days, our plans have mutated and our concerns about beating the winter have been alleviated by those changes. Without going into the full explanation, the conclusion is that we don't have to be anywhere in particular. Freedom! This is a form of luxury that is hard to imagine while still working: a complete and total lack of commitment. I know it can't last for long, but we're going to run with it as long as possible.
The initial thought is to use this opportunity to spend extra time in Wyoming, looking at slightly-off-the-beaten path things that we might have passed on if we were in a hurry. We might even find a few spots where Internet and cell coverage are not available, so if the blog disappears for a night, don't be too surprised.