We're back from Yellowstone National Park and I'm backdating a week's worth of blog entries now that I can once again get online.
From the moment you leave Cody, the road begins to climb and the scenery becomes stunningly rugged and fascinating. Even though Yellowstone starts about 40 miles away, it feels as though you've wandered off into the rocky wilderness almost immediately.
Two short tunnels and one long tunnel later, the first unexpected sight is a large reservoir and the Buffalo Bill dam. The dam was the tallest ever when it was built in the early 20th century, and a superb little visitor center will tell you all about it. The wind is also terrific, so fierce that steel bars atop the dam sing. Amazingly, you can walk out on the top of the dam and experience the awesome view and wind, even in this age of rampant security precautions.
A little further down is Buffalo Bill State Park, right on the shores of the reservoir. We noted it for a visit next time. Cell phones work there, somewhat amazing considering the remote feeling of the place.
Last time we went to Yellowstone we were unimpressed by the crowding in July and August. Eleanor was frankly not thrilled to be back, thinking that it would be the same, but the crowds have left and the park is much more pleasant, although the frequent visitors tell us that for September it still seems crowded to them. The East Entrance, by the way, is now completely re-paved and makes a fine entrance once again.
At the Canyon Visitor Center we heard a fellow talking on his cell phone. (This briefly depressed me since it meant I could get online and work near Canyon, but I decided to file that information and not make use of it on this visit.) He was excitedly telling someone, "Did you hear what happened to me yesterday? I hit an elk!" He appeared uninjured, but I expect the elk didn't get off quite as well.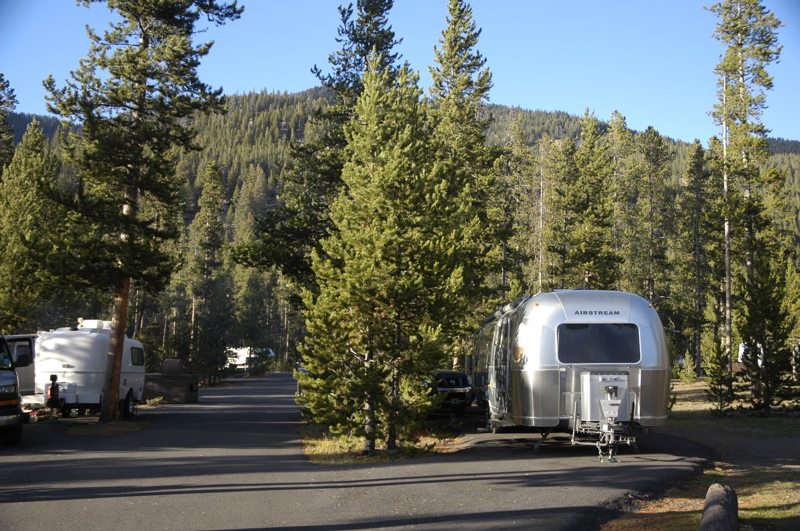 Sites at Madison campground are generally a bit tight for bigger RVs. We spent ten minutes wedging into our site so that we could park without scraping a tree or leaving a wheel off the pavement (there are fines for that). The other obvious problem is that our site is partially shaded by tall lodgepole pines to the east and west, which will reduce our solar gain to much less than I had anticipated. This could be a problem after five nights. Everyone else here seems to have a generator, and they run them a lot, probably because the nights are freezing.
On the plus side, our neighbors have two homeschooled kids, ages 6 and 10, and Emma managed to make instant friends with them. They have a lot in common as a result of their schooling. We can tell homeschooled kids now just from their generally outgoing behavior and their comfortable attitude toward adults.
It's time to make a small announcement: we have decided to continue homeschooling Emma for at least another year. It has been a great success and since her Montessori school in Tucson has had no openings thus far, we see no reason to stop traveling anytime soon. We gave Emma some placement tests for second grade and found she was pretty much on track or ahead of the game in all areas, so our confidence in our schooling technique has been raised. In the morning before we left Cody, we ordered a curriculum from the Calvert School which will be delivered to Bert & Janie's house next week. I'll talk more about that later.