It must have been the excitement of being here, because Eleanor and I were both wide awake at 5 a.m., lying there in our comfortable warm bed while frost covered the bedroom windows, and we could not manage to get back to sleep. I finally got up and fired up the stove to make some Cream of Wheat with maple syrup for breakfast. On cold mornings, especially when we are really "camping" in a national park, hot breakfast seems to be called for.
The overnight low was 27 degrees. We had set the furnace at 58 degrees and piled all our blankets onto the beds, so it was pretty chilly when I got up. The Tri-Metric battery monitor said we had consumed 55 amp-hours of power, most of which was to run the furnace, and looking at the shade of the lodgepole pines I could tell we weren't going to be able to recoup that with our solar panels. The power budget was going to have to be reduced.
To facilitate this, I started logging the daily temperatures, sun conditions, and power use/gain. This morning's entry looked like this:
27 degrees at 8:30 a.m. / -55 amp-hours cumulative (-55 amp-hours net)
Somewhere in the campground were the folks we'd met in Cody, Yves and Marta. I unfolded the Birdy bike, put on all my warm clothes (long underwear, two shirts, windproof pants, heavy socks, fleece, jacket, hat, gloves) and rode around Madison campground to see if I could spot them.
Riding in 27 degrees is really not bad if you're dressed for it. It reminded me of many bike rides I had done in Massachusetts in the late fall when we lived there in the 1990s. I liked it enough that I took a few extra loops through the campground that weren't strictly necessary, just for the pleasure of riding.
I might have had a chance to find Yves and Marta if I had a clue of their last name, the color of their tent, or the vehicle they were driving, but I had failed to get any of that information back in Cody. It looked like our chances of meeting up were slim to none.
Still, on the bike ride I did see the first of many bison, and off in the distance I heard an elk bugling. It was just too exciting to stay in the trailer much longer, so we woke Emma up and headed over to Old Faithful to attend a 10:30 ranger talk. Of course there I ran into Yves and Marta …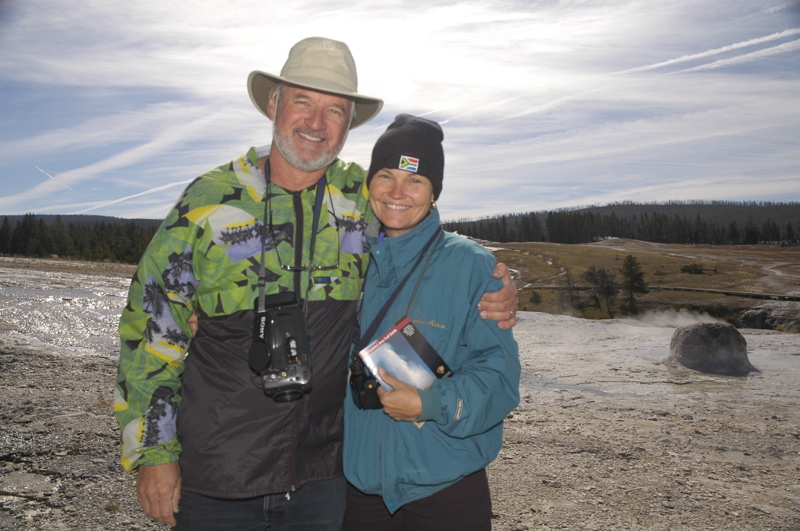 I have to admit that I was surprised to find them, since they were tenting in sub-freezing temperatures, but when I asked they exclaimed, "We couldn't leave, not while the weather is so nice!" And it was nice with the sun shining on the geysers. We made plans to meet up in the evening.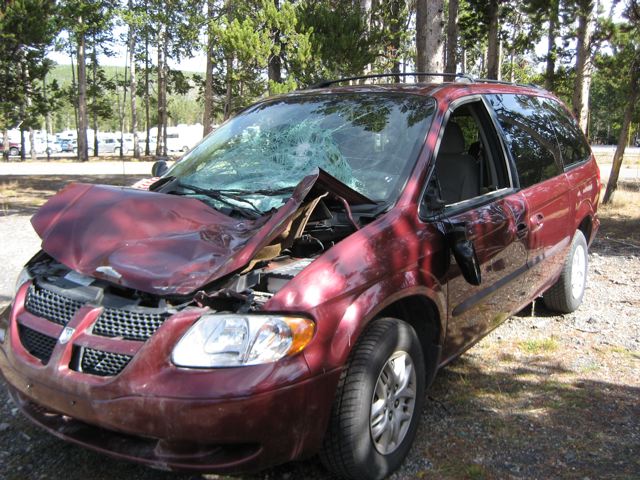 While at Old Faithful we found the car that hit the elk … a reminder that there's a 45 MPH speed limit in the park for a very good reason.
Emma quickly burned out on geysers, hot springs, and fumaroles, but Eleanor and I couldn't get enough of them. I even like the sulphurous smell of the steam. The best ones are the deep boiling blue ponds that remind me of Florida springs, and the ones with orange thermophilic bacterial mats around the edges, like Grand Prismatic Spring.
I'll upload a pile of photos of geysers and other sights of Yellowstone to our Flickr photo album when I get a chance.
Of course Emma is working on a Junior Ranger badge while she is here. Last year she got the badge for the younger kids (identical to the older kids' badge but following a different program), and this year she is working on the badge for the 8-12 year-olds. A minor disaster occurred along the way today, when a high wind blew a page of her booklet into a pool of boiling water. Needless to say, I didn't jump in after it. Only in Yellowstone can such a disaster occur.
It was an important page, one which had been signed by a ranger earlier (to acknowledge that Emma had attended his talk). Fortunately, we were able to get a replacement page at the Old Faithful visitor center and found the ranger again for a replacement signature.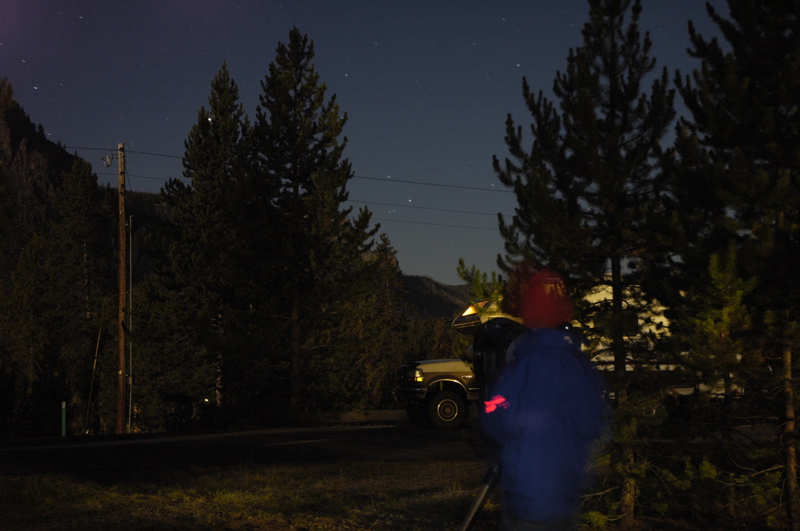 This evening Bert and Janie pulled in, towing their 28-foot Airstream. We introduced them to our neighbors, who had pulled out a large Meade telescope with computer control, and I tried some night photography while Jacob (the 10-year-old) worked with the scope.
Around nine Marta and Yves showed up for a bit of late dessert and wine over our dinette. They turned out to be very interesting: Captain and Mate for hire on various boats, based in Cape Town South Africa, and now traveling the US for three months in their van and tent. I have no doubt that we will see them again in the next year, somewhere in the USA.
Our solar gain report for the day looked like this:
Clear skies. At 4 p.m. cumulative amp-hours were -28. 27 amp-hours gained.
So we gained more power than I had expected given the trees, but clearly my initial budget of 60 amp-hours per day needs revision if we are to last for five nights. The furnace is the problem, so tonight instead of setting the thermostat at 58, we'll set it lower to 50 degrees. That's actually fun, makes it feel more like camping.