Parked in Bert & Janie's driveway, I have dug through enough work to escape for a few days to Canada. In the past 36 hours I've worked nearly 20 hours. I feel like a rodent gathering seeds for winter, constantly working so that I can take a little time off.
Except that I won't hibernate. The weather forecast for Banff looks pretty good, with highs in the upper 50s and lots of sunshine. Considering the altitude and the time of year, that's about the most we could have hoped for. So we'll scurry around and try to see half of the great things that everyone has told us about: Radium Hot Springs, Icefield Parkway, historic Banff, Jasper, Lake Louise, the Post Hotel, etc. — in a few days.
I'm also reliably informed by loyal blog reader Bill that I can get a great Canadian yogurt while we are in Banff. If you've read this blog more than a few weeks, you know that hunting yogurt that contains just milk has become a peculiar passion of mine lately.
I'd like to stay up in Alberta and British Columbia for a few weeks, roaming west toward Vancouver and slurping down yogurt, but again the demands of work interfere. My Verizon Wireless card will work in parts of Canada, but Verizon will charge me a punishing $2 per megabyte to use it. That means a typical load of daily email would cost me $25-50. It's the same with my phone: brutal per-minute rates. So those tools that I normally use every day will not be used.
And unfortunately, timing is against me. The Winter 2007 issue of Airstream Life is going to press next week and I need to be online for at least a few hours Tues-Thursday to review final page proofs. That means I need to find a wi-fi hotspot or cybercafe in Banff. It shouldn't be terribly hard, just slightly inconvenient. You retirees have got it right. I need to retire!
Seriously however, a job well done is a reward in itself and I do enjoy my job. I'm not sure that I would enjoy our travels as much if I wasn't also publishing the magazine. The two go hand-in-hand, for me.
I am also proud of my staff for pulling together to create a great magazine issue. It feels good to complete any issue of the magazine, but especially so when it looks great, and comes in on time and under budget, as this one has. The Winter 2007 issue should be well received. I'm particularly happy with the "newsstand" cover, the one that appears only on the magazines that are for sale in book stores such as Barnes & Noble and Borders. Want to see a sneak preview?
I thought so. Here it is: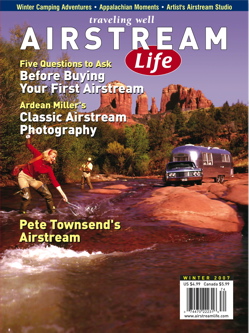 Now, don't tell anyone you saw this! It'll be our secret until it comes out in November, OK?
The plan is to head out on Friday, mid-morning. We should be across the border within an hour and in Radium Hot Springs by early afternoon. Most likely I won't be able to blog from there on Friday night but it's hard to say for sure. At some point over the weekend I'll try to get a blog entry up, and as usual, once I do get connectivity to the Internet I'll backdate a few entries.