The knock on the door always seems to come at the worst time. Eleanor was in the shower, I was on the phone and still wearing pajamas, and our neighbors in the campground had come to visit. They were wonderful people, the Ritcheys, former Airstream owners and full of enthusiasm, and I can't fault them for thinking we might be presentable at 10 a.m.
They live on the Olympic Peninsula, and having borrowed our open wi-fi signal and read the blog that said we were headed to the Peninsula, they felt it was only fair to return the favor of free Internet with some advice about where to go.
Eventually Eleanor and I got presentable — while talking — by sort of tag-teaming our guests. I managed to get dressed and brush my teeth while having a running conversation, and Eleanor picked up when I couldn't.
This multi-tasking continued right up to the point when Eleanor went to dump the tanks. Naturally, the rest of us bunched up toward the hitch end of things, where I was about to demonstrate the process of connecting a Hensley. Just then, Eleanor reported in a distressed tone of voice (you'll have to imagine it) that she had just had "a sewer accident".
Since I am the primary tank-dumper in the family, Eleanor has never experienced the joy of a sewer malfunction. I am embarrassed to admit that my first reaction was to laugh. In this case, the sewer had backed up from the "full hookup" connection and overflowed onto the ground.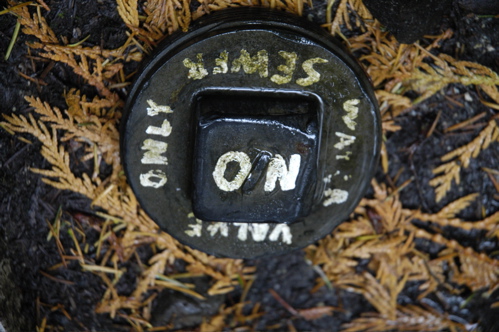 Last night I reported that we had a full hookup at $21 in this campground, a bargain. But I didn't actually connect things last night, Eleanor did. There was a cap with some writing on it. Eleanor glanced at this and saw the words, "Water," "Sewer" and "ON" and assumed it was a sewer outlet.
Nope.
What it actually says is better revealed in the second photo, which shows the cap right-side up. This is in fact a cover for a valve to shut off the water supply in winter.
Now, if I were the guy who had to shut off this water valve each season, I'd probably take much more aggressive steps to prevent people from accidentally confusing this with a sewer dump. Just one person, say for example a female person trying to help her husband and working in near-darkness, who finds this 4″ pipe that looks just like a sewer dump, in exactly the spot you'd expect to find a sewer dump, and who doesn't carefully study the arcane inscription on the cap, and accidentally dumps a load of raw sewage down it … well, it certainly is a formula for ruining everyone's day. The pipe is several feet deep and that's a lot of you-know-what down the hole.
Well, let's just cut to the conclusion. The situation was eventually cleaned up, mostly, and various people were cleaned up, and we fled, um, "departed" the campground for a very nice drive through Fidalgo and Whidbey islands. I don't think Eleanor saw much during the first 15 minutes because she was liberally applying Purell to her hands and talking about how we were going to get a bill from the City for this episode.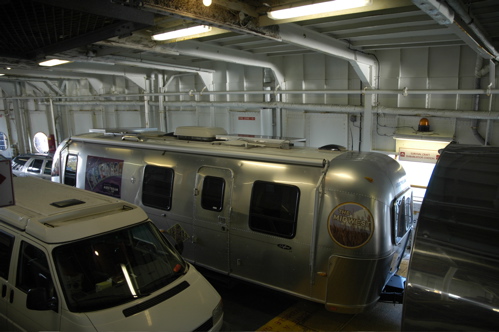 I think in the course of driving through the islands for an hour we experienced half a dozen major weather shifts. Eventually we ended up on the M/V Klickitat, a ferry originally built in 1927, to Port Townsend.
Our friends from the campground steered us well. When we got to the Olympic National Park visitor center, we found that in addition to the seasonal campground closures that we knew about, two more campgrounds and a couple of roads were closed due to recent severe weather. This eliminated quite a bit of what we wanted to do on the first day in Olympic, so we decided to try one of the campgrounds suggested by the Ritcheys, Salt Creek Recreation Area (a county park).
Excellent find. This campground is right on the water, with most of the campsites just a few feet from a rocky bluff and an awesome view. There's a water-electric hookup area, but it's more sterile. Go to the no-hookup back loop (sites 59 and above) and you're in the cedar forest. The sites are short but we managed to get the 30-foot Airstream parked without much trouble. A short hiking trail brings you to several beautiful overlooks, and at three points you can take stairs down to tide pools.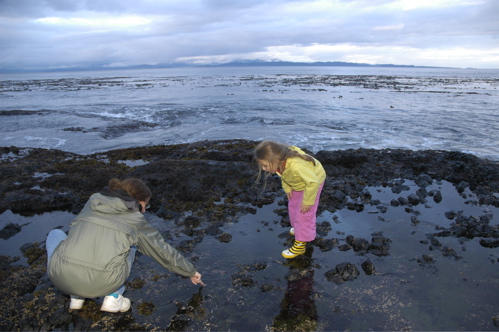 This campground was once a WWII gun emplacement, called Camp Hayden. The massive gun bunkers are still here and you can walk through them, along with some observation bunkers closer to the water. In fact, to go to the dump station you have to drive your RV through two of the bunkers! I'll have to get a picture of that tomorrow, when we go dump … very carefully.