Cape Disappointment is another great state park along the Washington coastline. It's too bad we can't stay. It has everything (nice campsites near the ocean, full hookups, hiking trails, great scenery, historic sites, lighthouses) except the one thing I really need right now: cell phone coverage. There's a spot of cell phone coverage in the nearby town of Ilwaco, but I need two full days in front of my computer, not just a quick email hit.
I hate leaving a nice spot to go work somewhere else, but that's the essential element of full-timing and working simultaneously. People are clamoring for me to get things to them, and I have a stack of paperwork a foot tall in my bag that has to be dealt with.
So off we shall go tomorrow morning, in search of a nice spot along the Oregon coastline where I can get online and there are also things for Eleanor and Emma to do. I think we'll find it, but it may take a few tries. I'm budgeting all day to drive only about 100 miles, with stops at various campsites to see if I can find the right spot.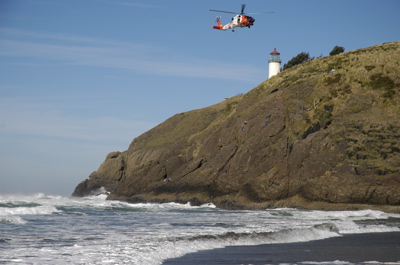 This afternoon the Coast Guard has been practicing rescues off the rocky bluff by North Head Lighthouse, just down the beach from us. We've been hearing and seeing the big orange helicopters buzzing over our site, so we took a walk down the beach to watch the show.
They've staged a bunch of blue-suited rescue dummies on the cliff, and the helicopters hover overhead while orange-suited specialists comes down the line like a spider in a web. Eventually the dummy is hauled up into the helicopter and then for some reason they pull a few hundred feet away and hover over the water. The helicopter's huge blades turn the rolling waves into fog, and then they fly back to base, and another helicopter arrives.
Being here has been a nice break from the week of rain and gray that we got from Vancouver all the way down to Hoquiam WA. The towels are finally dry, and our Airstream's batteries are recharged. I think the consensus is that the Olympic peninsula was well worth the visit, even in the off season, and we'd do it again if we had the opportunity. But on the road our practice is to look forward, and rarely backward. Now we're thinking about Oregon and the great things it has to offer.