The bleeding has stopped, momentarily. With Robert's help I managed to finally bleed air out of the brakes to the point that they are responding much better than before.
As with all things, it was much easier once we had the proper tools and proper procedure. First thing this morning, Robert and I went to Grants Pass to fetch the correct sized wrench (1/4″) and then focused on the task itself. We had a few false starts and at times I was tempted to give up and call in the pros, but having moral support from Robert I soldiered on.
It turns out that the bleed valves on the front axle are virtually inaccessible without removing the front wheels, but once that is done (one at a time) the rest of the bleeding procedure is fairly simple. Of course the learning process involved some semi-humorous moments, including a time when I managed to get sprayed in the hair with brake fluid. (Note: brake fluid works a bit like hair gell.)
By about 11 a.m. we had it under control and had road-tested the trailer on the state park roads. Now that I know what to do, I plan to do the brake bleeding again in the next few days just for fun. No, not really. In fact, we need more brake fluid and a better place to work than in the state park, if we are to get the brakes back to the performance they originally had. We'll be courtesy parking in the next few days, so I am hoping for a suitable spot to do the work.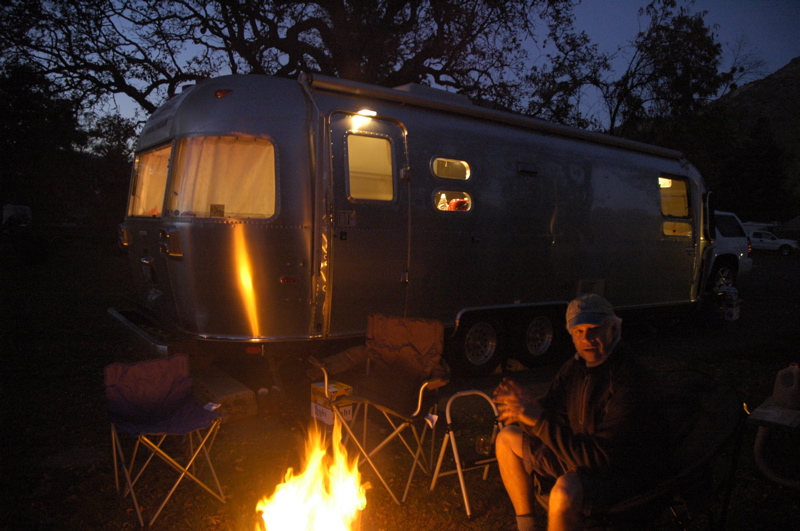 Emma and Allison have had a marvelous day, chasing each other around, playing all kinds of made-up games, eating blackberries off the bushes around the park, playing "spy" with the walkie-talkies, and generally being two very active little girls. We want to give them more time together, and do some hikes as a group, so we are hoping to rendezvous later this week.
The adults have done fairly well together too. We've discovered that Robert likes to cook breakfast, and one of his breakfasts lasts all day. The last time I had a breakfast like that was courtesy of my friend Rick at the Region 1 Rally in Woodstock. We didn't need to eat again today until Robert made a fire (above) and started cooking up bratwurst (with bean soup, and corn bread).
It has been beautiful here at Valley of the Rogue. I could easily stay a few more days, but the clock is ticking against us if we want to get into Yosemite. Right now they are getting upper 60s and sunshine in Yosemite Valley, and the forecast for next week looks good too.