We are so comfortable here in Roger & Roxy's courtesy parking spot that we have decided to stay a third night. For a "small" California city, Visalia seems to have everything we need for now. Yesterday we knocked off a lot of our to-do list: propane re-fill, a very short haircut for me, a new external hard drive for the Mac, a huge pile of laundry, groceries, and I got a new cell phone.
OK, explanations: The haircut keeps getting shorter because I find life to be easier with short hair. It's easier to wash when boondocking on short water supplies, and I can let it grow for a few weeks between haircuts (although this last time I waited a bit too long and ended up with a permanent case of the "bed-head" look.) This one is the shortest yet, approaching a crew cut. Anyone who has known me in the past 40 years may be a bit shocked.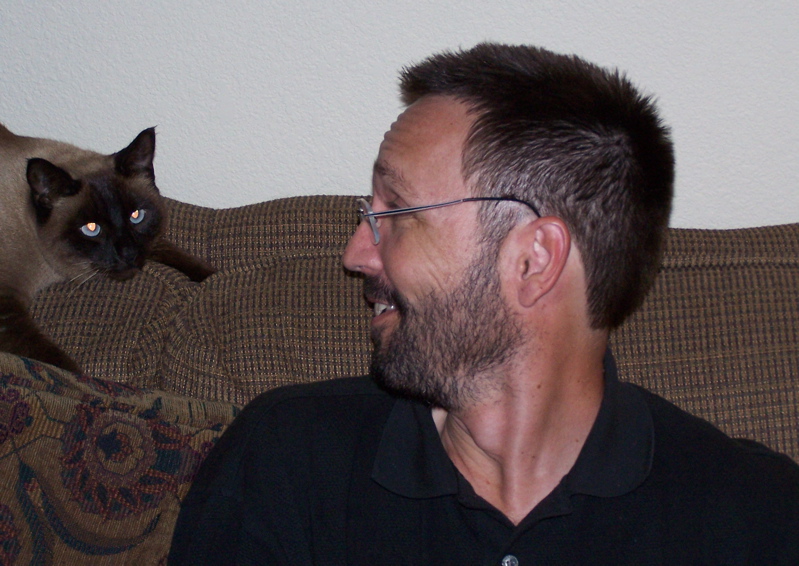 Hard drive: I have need for lots of disk storage because I carry around the complete archives for Airstream Life (layouts, website, articles, correspondence, database, and over 20 gigabytes of photography). The biggest external drives require AC power, which means I would need to run an inverter to use those drives when not plugged in. That is possible, but I find all the cords to be a nuisance, so I use USB-powered drives exclusively.
I was thrilled to find Western Digital's Passport model that stores 250 gb in a very small form factor and doesn't need AC power. But when I got it home I found the bad news: it doesn't work on the Mac Powerbook G4, despite WD's claim that it is "Mac compatible." The reason is that it draws more power from the USB port than it should. It works fine with Eleanor's Mac iBook G4 however. Western Digital has a work-around for this problem, a funky Y-cable that lets it draw power from two USB ports simultaneously, which I will probably get later, although it's kludgey.
Cell phone: I talk on the phone a lot and believe it or not, under heavy use cell phones do wear out. My last one was purchased in August 2006, when the previous phone croaked out in Idaho. The battery of the replacement phone has had a noticeable loss of capacity and the case is badly worn. I decided to take advantage of Verizon's upgrade program before the phone died, because the rule of thumb is that cell phones die in the most inconvenient spots. And, this way I've got a backup phone in case of failure.
Tomorrow the local Nissan dealer has made room for us on the schedule to get the big 60,000 mile service interval, which will be expensive but is another piece of the mandatory maintenance. That's 60k miles in two years … yikes … That's a lot more use from this vehicle than we had originally anticipated. It's holding up very well, but I wonder if — given our future plans to keep traveling forever — we should consider moving to a diesel vehicle.
We also got a lot of future travel arrangements worked out today, including a bunch of courtesy parking, travel to Vermont (via the dreaded airlines), and a Thanksgiving vacation. So behind the scenes we have managed to get things in fine shape, which means we're just about ready to start moving again.
Here's a holiday Airstream-lover tip from correspondent Craig Dreher:
Holidays are coming up fast, so I was on the Airstream site the other day shopping and noticed they had a cookie-cutter in the shape of a Airstream. It didn't look like our Bambi however. As a result Mary and I were off to Home Depot for a small sheet of aluminum. With a few cuts and rivets, we had ourselves a unique cookie cutter. Totally easy too.

If one took more time than I did, you could probably fashion a handle too.
Check out the cutters and results here