As I travel I've been asked by friends to keep my eyes open for certain models of vintage Airstreams that are for sale. Out west I find some of the best Airstream hunting, because around any corner there can be a well-preserved vintage trailer sitting in a low-humidity climate, just waiting for someone to come by. California is not the best spot because prices here tend to be high, and only a little of the state is truly arid, but there are still plenty to be had.
Roger heard about a 1978 Airstream Excella 500, 31 feet long, sitting in a salvage yard not far from Visalia. After dropping off the Nissan for its expensive 60,000 mile service, we drove over to the yard to check out the trailer and document it for anyone who might be interested. Roger posted my photos and his on Flickr.
The seller is asking for $7,200 or best offer, which seems a tad high, but the trailer is very well kept. It was clearly loved by someone and maintained. The interior is all original except for fabrics, and it has a good roomy floorplan up front, twin beds amidships, and a spacious rear bath. The body is in good shape with no major dents.
Like a lot of 1970s trailers, it has storage in abundance, tambour doors everywhere, extensive clearcoat peeling, tired axles, fogged Vista-View windows, and lots of potential. I'd expect to drop another $4-5k into it quickly for axles, brakes, tires, leak fixes (I'm sure there are leaks somewhere), new awning fabric, and a bit of floor rot repair near the entry door. A more complete restoration that repaired or replaced the fogged windows, replaced all the fabrics, and included a budget for appliance replacements would probably run $10-20k depending on how nice you wanted it. A full-blown restoration to get it perfect and polished … well, that could cost anything.
The point is that an Airstream can cost almost anything. You can certainly get going on a budget as low as $5k (we did). For a lot of people, the best course is to take an "OK" trailer like this one and upgrade it slowly as you use it. If I were looking for a longer trailer that I could start using right away, I'd consider this one with a working budget of about $10-12k for trailer and initial fixes.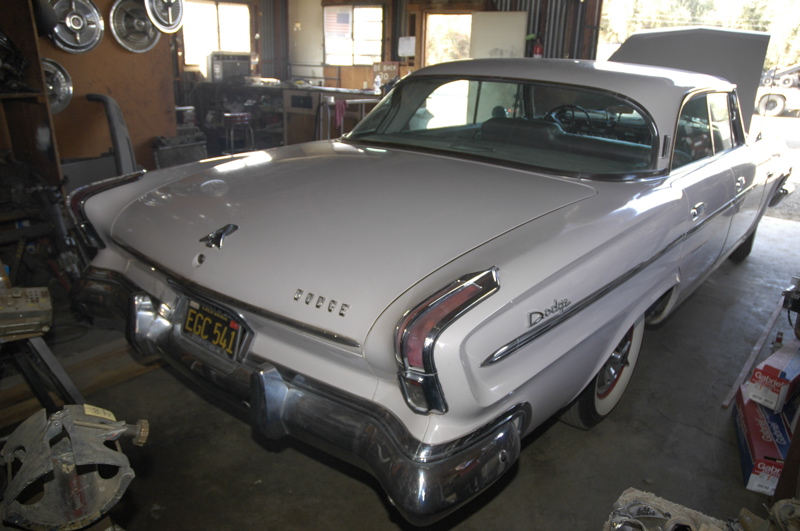 While we were poking around at the salvage yard we also spotted a very tired 1976 Airstream Caravanner 25 (needing a complete restoration and sporting some poorly repaired rear dome segments), and this "so ugly it's cute" 1962 Dodge 880.
The Dodge is all original. It's the classic story of the car owned by a little old lady and used only occasionally. 34,000 miles and it shows just a little patina in the form of small rust areas around the corners. It runs and the interior is excellent. I especially like the funky push-button transmission.
I'm intrigued by the idea of using a 1960s car as a tow vehicle for our 1968 Airstream Caravel, but I'm not buying this one yet. The seller wants $6,500 if you're interested. Photos are also on Roger's Flickr album.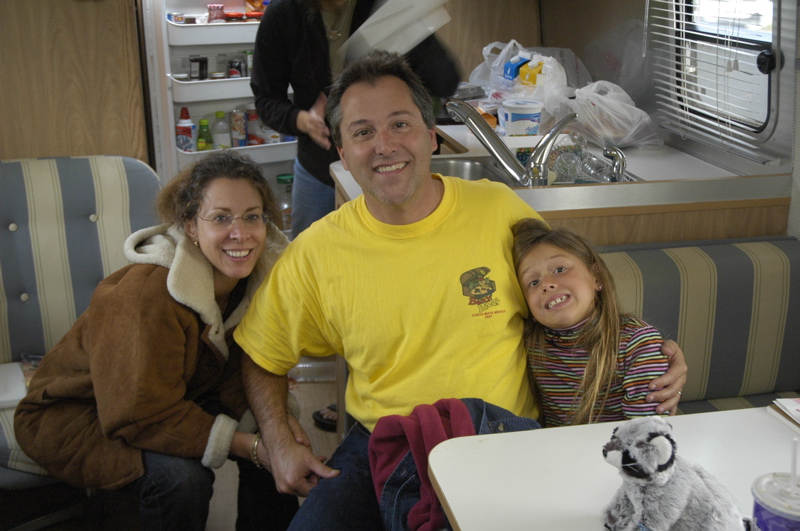 Tomorrow we are moving off. We have mooched a few very nice nights with Roger & Roxy, gotten our errands done, eaten coconut cream pie, and caught up mostly with business. It's been fun and relaxing being here.
Now we're heading to the coast to meet up with some Airstream folks who flagged us down a few days ago on our way out of Yosemite: Cynthia, Dennis, and 7-year-old Madison. They'll courtesy park us at their house, so this is a a great low-cost week, but that's not the reason we're going there. It just looks like fun. Good enough reason.