Normally I'm an advocate of preserving our natural resources for future generations. This means protecting wilderness areas from undue encroachment, and setting in place reasonable policies for use and management of natural spaces. It turns out that here at Oceano Dunes a battle is ongoing for domination of the sand, with off-highway vehicle users and campers (like us) on one side, facing off against beachfront property owners.
I can't jump into the middle of the battle without knowing better what the issues are. So far I've heard only from one side. But I can say that an experience like camping overnight on the sand at Oceano Dunes is almost unique in this country, and that opportunity is itself a form of vanishing resource.
It seems to do no harm for us to be here. We will pack out everything we bring in and leave no trace of our visit (except tracks in the sand). We won't destroy dune grasses or harass wildlife, even the sand dollars that are embedded in the flat wet sand below the high tide line. I can think of no one, no living thing, and no local natural resource that we will negatively impact.
But I suppose those people who live near the beach have their reasons for wanting to get rid of us. And they may eventually win the battle, so the opportunity to camp by the sea here at Oceano "" a unique experience in all of California "" may be only temporary. It may join a long list of really special travel experiences that your parents or grandparents remember doing, but which are no longer allowed in the name of "property rights", wildlife protection, or national security.
Some of those changes have been for good reasons, such as no longer feeding bears garbage at Yellowstone and Yosemite. But others have been pushed through for political gain or as part of shallowly-disguised land grabs. Regardless of the reason, we seem to have less freedom and fewer opportunities here year after year. If you want to experience what we've done here, I know of only two places left in the US (Oceano Dunes and South Padre Island). And in general, it's a good idea to grab the experiences that the world still has to offer before they disappear.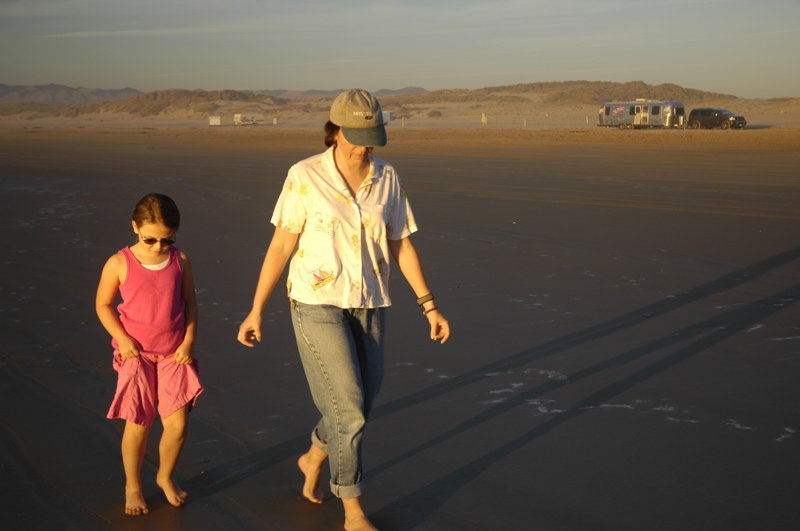 I would like to stay here a week, and next time we are in the area we will absolutely do that. The truck that drives by (several times a day, it turns out) has ice, water ($0.50 per gallon!), and pump-outs for $30. With two full tanks of propane and our solar panels, we can stay here for a long time. Better yet, I can work here, since my cell phone and cellular Internet connection function well. This may have been one of the best days at work I've ever enjoyed, with door wide open to admit the ocean breeze, the high tide now only fifty feet from our door, incredible sunshine, and Emma happily making a castle in the sand nearby.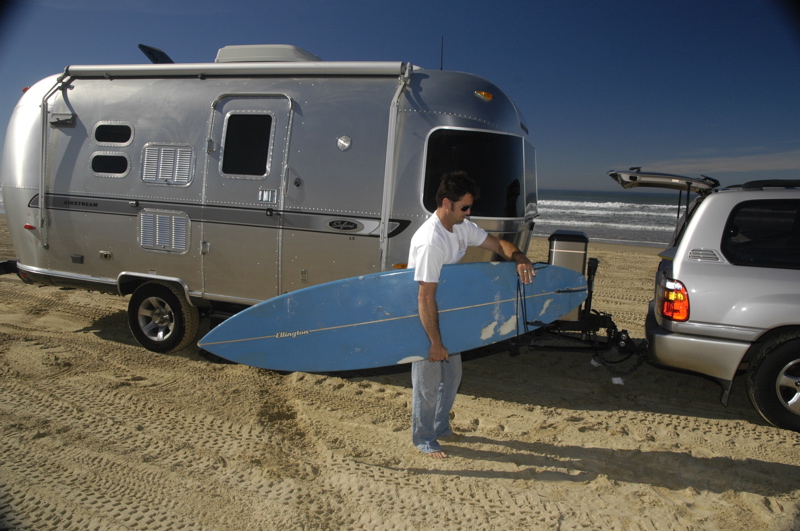 Around 10 this morning we had a visit from Shaun Kieran and his associate Nikolai, who work repairing church organs all over southern and central California. They pulled up in a new 20-foot Airstream Safari Special Edition, which they live in while working on jobs. On the weekends, Shaun brings his wife and two small children out in the Airstream for vacations.
These guys were just looking for a spot to take a break in between jobs today and went looking for this beach. They were surprised to see us parked here on the sand, so they stopped and unloaded their surf boards and we got acquainted. The water was too cold for surfing even with their wetsuits, but Shaun will be back next weekend with the family for some camping.
We hung around the beach until 3 p.m., and by then the sun was already dipping low to the southwest. It was time to head off to our next stop, down in Los Olivos with Cindy, Dennis, and Madison. But first, we stopped at the North Beach Campground to use the dump station, and there we had one more surprise. A fellow walked up to us and said, "Hey, you might not remember me, but we were parked with you in Whispering Pines in Vermont!" We love the "small world" moments like that.