Note that this post is entitled "Airstream life" with a small "l". It's not about my magazine, Airstream Life, but rather the fun and occasionally odd coincidences, opportunities, and friendships that pop up simply as a result of being part of this lifestyle.
For the past two days we have been feted by our hosts Cynthia and Dennis as if we were celebrities, which has been simultaneously flattering and humbling. Flattering, because of the attention we received and the thrill our hosts affected from our visit. Humbling, because at the end of our visit, Cynthia noted that in the final analysis we were "just regular people" who happen to be living a different sort of life. After two nights in their driveway our celebrity status was stripped away and we were revealed as Rich & Eleanor & Emma, three people who breathe the same air as everyone else, and who still have to swipe the credit card at the pump twice when the total exceeds $75.
Perhaps in the future we should bail out before our courtesy parking hosts realize they've been had by a family of nomadic carpetbaggers who sleep in driveways for free. (Although I did give Dennis an Airstream Life hat and some free advice to "pay" for our visit.)
I'm just joking of course … We became fast friends with Dennis and Cindy, and Emma has a good friend in Madison, and we hope to see them all again soon. That's how it goes, and we love it. We've made a lot of good friends in the past few weeks and there is little doubt they will pop up in our lives again, possible in an completely unexpected place and time, as happened today with Rickie and Yank Sefton.
We were standing in the driveway admiring the two lovely Airstreams when an unknown truck pulled in to the driveway. A man in the driver's seat called out, "Is this Mark's place?" I said "No!" and then noticed that the driver was our friend Yank, and sitting next to him was his wife Rickie. We hadn't seen Yank and Rickie since last June in Oregon. It turned out they were in Los Olivos looking for the park where they had first kissed, and they were attending a rally of the El Camino Real Unit of the WBCCI just a few miles away.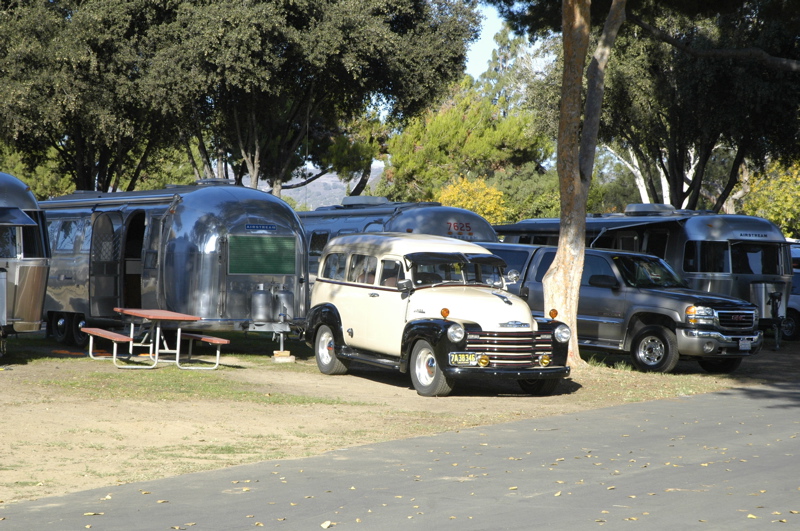 So we went to the rally, of course, and found many other Airstream friends there, including Tommy & Kathy Green, Herb Richter, and Marilyn & Roger Taylor. Tommy pulled out his collection of ukeleles and dobros and inspired me to get back on practicing. I'm hoping he will join us at Anza-Borrego in December so he can tutor me a little — his playing is really great and he's only been at it a couple of years.
Meanwhile, Cindy & Dennis got so pumped by the friendly people at the rally that they went home and got their trailer. They're going to camp at the rally site for a few nights and commute to work from there instead of from home for a while.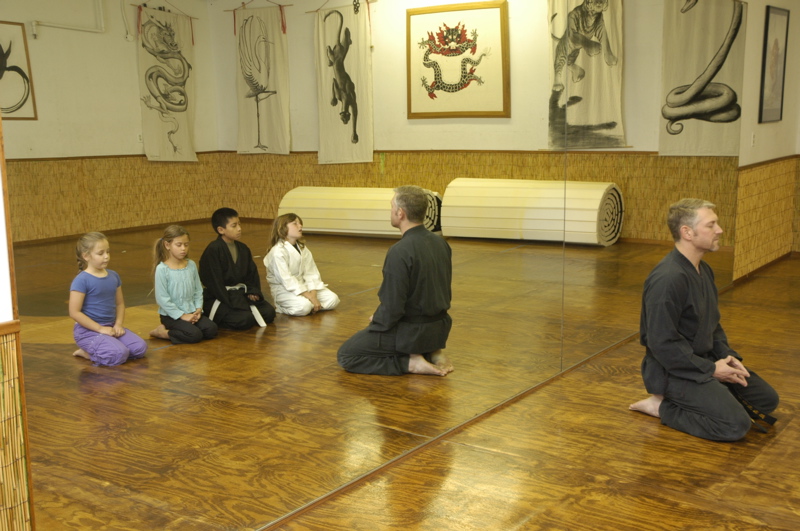 Before all this happened, Emma joined Madison for her Saturday morning karate class. I've been wanting Emma to try karate since I've hypothesized for a while that she'd like it, and I was right. When we get back to Tucson and are working on the house I'll try to get her in for some lessons. Karate is great for kids, helping them develop physical skills and mental discipline. The instructor in Los Olivos was really excellent. I can only hope we can find someone as good as him later.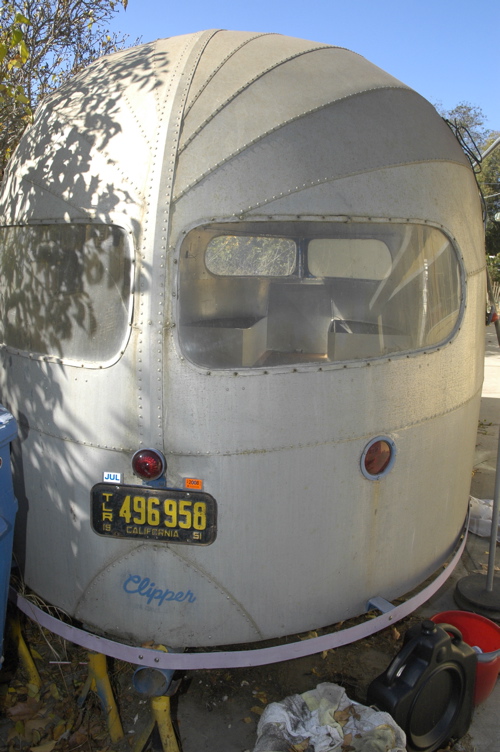 Driving around town after karate, we spotted this little gem sitting in a driveway. It's a 1947 Silver Streak, very much like the late 1940s Airstreams. I talked to the owner, who was only too happy to give me a tour of the project. It's still gutted inside but in a year he plans to be touring the country in it. It's very hard to find 1940's-era aluminum trailers in any condition these days, so he's got something quite special on his hands.
With all the action today, I was beginning to feel the need for some down time, and we were due to head to Ventura to courtesy park at Dave & Ariadna's house. The 70 mile drive down Rt 101 was just the answer, since the traffic was light and the scenery along the Pacific Coast always inspires me. We made a quick stop at Carpinteria State Beach to use the dump station ($8) and found ourselves parked on the street in front of Dave & Ariadna's by 5 p.m., just in time for sunset.
Once again we are blessed with a 7-year-old to engage with Emma. She and William immediately began doing kid things to the living room (stacking pillows to make a fort, playing raucously with the dog, yelling, and pointing Nerf guns at each other), and left us free to get to know our current courtesy parking hosts.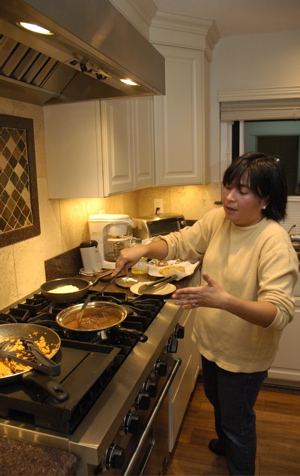 Ariadna is from Mexico, and for this occasion she went all out and made us an authentic homestyle Mexican dinner. I ate far too many tortillas, but I couldn't resist her cooking. She has completely charmed Eleanor, and it wasn't long before David and I began kicking around ideas for a Sonoran Airstream tour, perhaps in late February or early March — assuming we can get the house under control by then. Not only would Ariadna be a huge asset by speaking Spanish, but it looks like we would all enjoy doing the same sorts of things once we get to Mexico, and the kids would have a blast together.
But that's far off. Right now we need to figure out this week. Thanksgiving is looming and we have no place to stay. Tomorrow we are going to check out some interesting potential spots in Malibu, Santa Paula, and other close areas. On Saturday, one week from today, we will fly out of LAX for a vacation, and between now and then we have a ton of things to do.
Now, I know what you're thinking … "Vacation? How can they tell the difference?" Well, a vacation by my definition is a period in which I do no work. Normally I work every day of the week, weekends included. Once in a while I declare a holiday and leave work behind. This time, it happens that the place we all want to be while I am on vacation is a place we can't reach conveniently with the Airstream, thus we are flying from LAX. I'll talk more about that later.