Some time ago I was "tagged" by my friend Rich C, who writes a blog of his own about his life in Prescott AZ. I think that being tagged means I am supposed to write seven things about myself that are not commonly known (and then tag a few other bloggers to do the same).
My first feeling about the "7 things" tagging game was that it was silly, a sort of blog chain letter, far outside of the purpose of this blog. Then it occurred to me that since I have been blogging our daily life on the Internet for over two years, there remains very little left to tell other than things I have deliberately avoided discussing. Thus, perversely, the challenge of coming up with seven more things to say might be interesting, or at least a mild break from the musings of daily events that usually comprise the blog.
So here they are, seven things you didn't know about me and probably don't care to:
I never wear a watch but I own two watches, an ultra-thin black Swatch and a vintage Hamilton Electric Ventura.
My Airstream's essential equipment includes a torque wrench, a laptop, and a collection of James Bond movies on DVD.
All of my three pairs of glasses have scratched upper left corners from using my camera. This makes me consider Lasik or contact lenses.
My favorite animal is a Maine Coon tabby cat, the bigger, the better.
If I had my life to live over again, I would have cycled across the USA the first time somebody suggested it to me.
I once lost my sense of smell for two months. (Steak tastes like cardboard if you can't smell it.)
The most common comment on my school report cards was that I'd do much better if I just applied myself. I always wished I could turn the tables by issuing a report card on my teachers.
Well, I feel better having gotten all that off my chest. And now, back to our regularly scheduled program …
The Airstream is parked on a sloping road in front of David and Ariadna's house. It is so sloped in fact that even unhitching the trailer and dropping the front down to the ground, we still have a noticeable elevation gain when walking from back to front. I put both Rotochoks into the wheels and hoped they would hold. So far the Airstream hasn't traveled as a result of gravitational attraction.
Either the city of Ventura or the county of Ventura would like our courtesy parking hosts to report that we are parked here on the street, if we are to stay more than two nights. Rather than force them to do that, we are moving on to a campground tomorrow, where we will stay through Thanksgiving if possible. We wanted to go to Point Mugu State Park's beachfront camping area, but it has been foggy and cold lately along the coast. Not only would this make the beach much less fun, but we wouldn't be able to make power with our solar panels, and the campground offers no electrical hookups.
So we are leaving, but Emma and her new friend 7-year-old William have been so happy together (yet another score on the kid front) that we may stay fairly local and come back for a few more play dates. They certainly managed to keep each other entertained today while we roamed around town. David took us to the secret location where he stores his highly polished 1964 Airstream Globe Trotter, and his slick vintage truck, and then we all went down the Pacific Coast Highway past Point Mugu to Neptune's Net for seafood.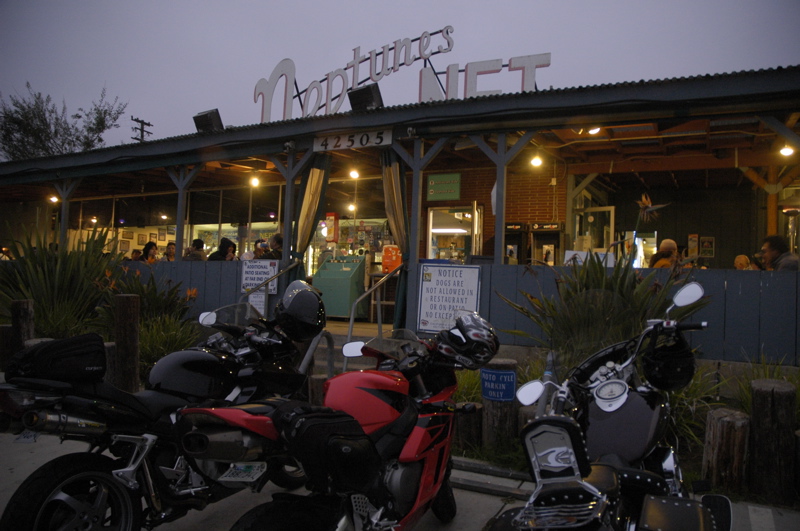 Neptune's Net is a great spot for seafood, but in my opinion the best aspect is the people-watching. You can sit at big picnic tables with your fried seafood basket and see the most classic California personalities, from sun-bleached surfers to hawg riders to Sunday-best-suited churchgoers. There's a dress code, though. A sign says clearly that if you are dripping wet (the beach is just across the highway), "No soup for you!"
Now, let me offer a version of the "7 things" challenge to you. If you can, write up 7 great places that we should visit in southern California or the American southwest that we might otherwise overlook, and post them to the blog as a comment. If you can't come up with seven, just write as many as you can. Other blog readers will appreciate them, and I'll see how many we can add to our itinerary.