Finding camping in and around Los Angeles is always trickier than other places. Finding camping over Thanksgiving week — at the last minute — is nearly impossible. This is one of those exceptional times when our "no reservations" policy has made life more difficult. We've looked around the past couple of days and found that our choices have dwindled to virtually none.
Normally we'd bail out of the metro area and head a hundred miles into the desert where other people don't go, but this week we have special considerations. We need to be back to LAX on Saturday, and we have friends to meet in the area, and I want to get some work done before we fly out. Plus, Eleanor wants to do some cooking even if we aren't going to have a full-blown Thanksgiving dinner in the trailer this week.
That means we need the impossible: a camp site that is inexpensive, close to Los Angeles, and offering full hookups. In reality we can get any two of those three things this week.
The reason is that area campgrounds are charging "holiday rates" for sites. Here that means $55 per night for a site that should cost about $30 normally. The more reasonably priced state parks are booked solid. We have a potential strategy to try to get into a county park that doesn't take reservations, but it is boondocking only (no water, electric, or dump station). So we decided to spend one night in an overpriced full-service campground so we could dump, refill, do laundry, and stay closer to our Ventura friends. Fully restocked with water and with empty holding tanks, we'll be ready to hit the county park on Tuesday, assuming we can get an opening.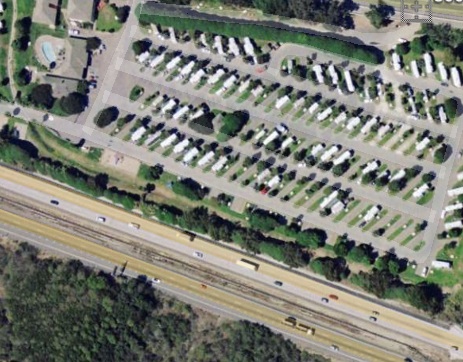 The place we have ended up is actually very well-kept and would be a decent place if it were not located directly adjacent to Highway 101. Pick any major interstate highway and imagine yourself camped in the breakdown lane, and you won't be too far from what it is like to be here. By day the noise is tremendous, a constant four-lane roar layered with thundering tractor-trailers, the whine of tires on concrete, and the occasional unmuffled motorcycle.
There is no chance of sitting peacefully under your awning in the afternoon, unless you are stone deaf. This is not what Gerry Beckley and Dewey Bunnell had in mind when they wrote their lyrics.
"There are a lot of transients in this area," warned the nice lady at the check-in counter. They asked me to destroy the secret code to the bathrooms and the pool somewhere off-site, so a dumpster-diver can't find it. Propane refills are $4.50 per gallon, and you have to leave your driver's license while the tank is being refilled.
And yet the place is sold out for Thanksgiving, at $55 bucks a night. When I see situations like this, I wonder "Who in their right mind would choose to stay here and pay that rate to park in the noise? Can't they think of a better place to be on a holiday?" For us, this is like torture. I'd rather be at a Wal-Mart. The noise makes me feel like we are staying at the Flying J truck stop, only with grass.
I've never understood why people will voluntarily park for more than a night in a noisy RV park. But even in the rattiest hell-holes of RV parks I have met people who think they are in paradise, so clearly there is something I'm not seeing. It is probably that, like us, they have a particular reason to be here (relatives?) and are simply taking what is available. It certainly is true that along this stretch of coastal California there are hardly any places to camp away from Hwy 101, so perhaps they figure that at least in the RV park they get hookups with their dose of noise.
In other parts of the country we have bypassed such places and found a lovely county or state park just a few miles away. I know most of these folks have a copy of Woodall's guide or the Trailer Life directory, so they must know that other options exist. For some reason, they won't take them.
Well, perhaps tomorrow we will. Up the highway the county parks we have our eyes on probably won't be a lot quieter because they'll be near Hwy 101 too. There won't be any hookups at all and we'll have to conserve water and electricity as we have done so many times before. But for those considerations (plus $20 a night) we will be just a hundred feet from the pounding Pacific surf, and we'll have a million-dollar view. I'll take that deal — if I can get it. If not, we'll have to figure out Plan B.