We are very busy now, trying to get ready for our vacation next week, so it's a good thing we got an invitation to Thanksgiving dinner. Eleanor contributed only gravy, and otherwise we left the cooking to our friends (and found ourselves in very good hands, indeed!)
We are busy because we have a plane to catch on Saturday morning, and before then we need to get the Airstream ready for storage, get ahead on work as much as possible, pack, relocate the Airstream to storage (about 100 miles away), and then get ourselves to LAX.
We've done this dance before, so we know the steps. A little networking found us a safe place to store the Airstream, and the process of putting it to bed for a week or two isn't difficult. The fridge will remain running on propane, and the solar panels will keep the batteries topped up. All the really valuable stuff will be with us (mostly the laptops and cameras), and the trailer will be well cleaned so that critters will not be encouraged to sublet the place. It will be ready to go when we return from our trip.
As always on Thanksgiving, I try to give a few minutes to count blessings, and this year we have many. I'm thankful to still be in business doing something I enjoy and which gives us this interesting lifestyle. We're all in good health, our future is bright (if not totally assured), and the people we care about are all doing well. There are many things to be concerned about but today is not the day for that. Today is the "glass half full" day.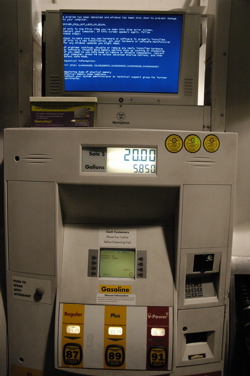 On the way back from dinner tonight we stopped for gas, and I was treated to an increasingly-common phenomenon: an annoying television blasting loud commercials at me about skin cream and bogus ways to make money buying distressed real estate. I've encountered this before, but this was the first time I've seen one without a "mute" button. (Robert Heinlein foresaw this; I can't remember if it was in "Podkayne of Mars" or one of his Lazarus Long stories. In the story it was in a taxi cab, and a bribe to the cabbie made the screaming ads go away.)
I should have used the adjacent gas pump, where the ad system had crashed. That's increasingly common too, since these systems are often based on Microsoft Windows. (If you find this amusing, check out Miguel Carrasco's site.) So here's the glass-half-full portion: This proves there is a good reason for Windows to exist after all. It gives us a good chance of avoiding obnoxious ads!
Happy Thanksgiving to all.