It was a beautiful day for towing over the mountains, but Julian was a bust. It's not the sort of place one wants to be wandering around with a 30-foot trailer in tow. The whole town is basically on a hillside, and long parking spaces on level ground are non-existent.
We inquired locally about the gold mine, and were told we might be able to visit it with our trailer, but that turned out to be terrible advice. The road in was rutted dirt, one-lane, and without any sort of respectable turnaround. We arrived at the entrance gate to see a sign advising us that tours for adults were $10, children were $5, and "if you cross this line, you owe!"
At that point we just wanted to get our trailer out in one piece. After an exciting three-point maneuver (with barbed wire fencing to add to the fun), we reversed course and carefully picked out a path between the potholes back to the main road. Ah, well, not everything works out the way you'd want it to.
We've arrived at Terry and Mike's house in San Diego for courtesy parking. Their extended family seems to own half the block, and they've combined backyards to create a private parking area for their various projects. After a little vehicle shuffling to make room, we got a nice spot on a concrete pad with electricity and fencing all around. Private, quiet, free … three of the the things that make courtesy parking great!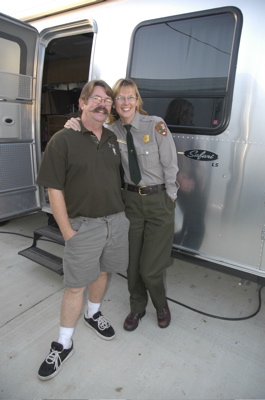 Terry is an occasional writer for Airstream Life. Can you guess what her day job is? Her husband possesses one of the most elaborate mustaches I have seen since Salvador Dali. Together they are quite a pair, and I'm not even mentioning Terry's fetish for Tinkerbell dolls (oops, sorry Terry). We loved having chili dinner with them tonight, and Emma loved meeting their niece, cat, and two dogs.
We'll be here for over a week. The rest of this week and next, I will be posting some tips and answers to your questions here, about every other day. Then, we'll start heading east next Thursday or Friday.