We've moved from the leeward side of the island over to the classically tourist downtown of Honolulu, known as Waikiki Beach. Here things are much different, with high-rise hotels and lots of prosperity. The tent cities and depressed areas further west seem very distant.
Yesterday afternoon the sun came out again and we went down to Ko Olina, an area of timeshare resorts on the leeward side where four man-made lagoons have been carved out of the wavy seashore. A book I'd read suggested that the lagoons would be good for snorkeling, but they weren't. That's what happens when non-snorkelers write tips on snorkeling.
Lagoons tend to collect murk, which kills the visibility. Also, since these were man-made, they have sandy bottoms with no reef or rocks, thus they are unattractive to reef fish. We saw a couple of angelfish and that was about it. But the lagoons are wonderful places to swim, even on a wavy day, because they are well sheltered.
Emma has been clamoring for more snorkeling so we decided to visit Hanauma Bay State Park a few miles east of Waikiki Beach. I was expecting an overcrowded beach and more murky conditions caused by clueless swimmers stirring up the sand and stepping on the delicate reef, but Hanauma was a pleasant surprise.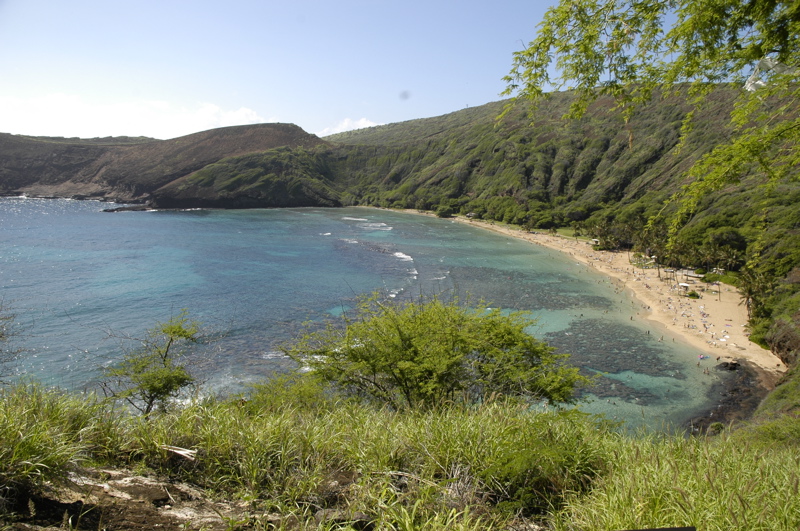 Formed by a flooded ancient crater, Hanauma Bay is reputedly the most beautiful state park in Hawaii, and I can believe it. Popular since the 1950s, it was a bit abused for a while. People overfished it, they trampled the delicate coral (thus killing it), and the first transpacific undersea cable between Hawaii and California was laid right in the middle of the bay. (They did this by blasting a 200-foot wide channel with dynamite, which has since been filled in by sand.)
But lately Hanauma Bay been very well cared for by a volunteer group. Now, just to enter the park you must first watch an educational video about how to protect the reef and the sea life. There's also a very good visitor center with information about the coral, fish, and other sea life. Admission is $5 per person (kids free), and parking is a buck. With all these barriers in place, people seem to really respect the park, and I heard a lot of people talking about the care they were taking to avoid stepping on the living coral, steering clear of the sea turtles, etc. That's a real contrast to what I have seen around reefs in the Florida Keys.
Near the shore the water was predictably murky with perhaps 8-10 feet of visibility. Still, Emma was thrilled to spot a moray eel almost immediately (his mouthful of teeth scared her a little), and numerous colorful reef fish. Visibility improved about 100 feet offshore, and with the educational video still fresh in her mind, Emma was extremely careful not to step down or touch the coral.
While she was on the shore resting, I went out past the wave break, maybe 200 yards offshore, and found slightly clearer water and a wider variety of fish. I also spotted a small Green Sea Turtle (called honu by Hawaiians) and watched him eat algae off the coral for a few minutes. Of course Emma couldn't pass up on this, so I took her out to the deeper water and we spotted another, slightly larger sea turtle. By all accounts, it was a very successful couple of hours of snorkeling.
I read a Dave Barry essay once where he described visiting the ocean and not going underwater as being like going to the circus and just watching the outside of the Big Top. It's true. Under the sea is the real show, full of incredible creatures and tiny dramas. I watched a school of Convict fish swarming coral areas for food, while a solitary little brown fish bravely attacked them one at a time to drive them away from his territory. I watched a moray eel swim slowly in and out of his little cave, baring his menacing teeth. Little yellow tangs swam timidly below me, while a green sea turtle placidly bounced from one coral outcrop to another. There were strange things buried in the sand and deep in coral caves that we only spotted because they moved. And yet from the shore it was just another beautiful Hawaiian beach.
We get looks from people because we snorkel in our shorty wetsuits. Nobody else does. Most people don't bring their own gear, either, preferring to rent it from Snorkel Bob's or (in this case) right at the beach. So we stand out when we arrive bearing all our stuff, but I don't mind. Wearing the wetsuits gives added protection against scrapes or possible stings, plus protection against the sun, plus added flotation, plus we can stay in the water much longer.
The water is warm enough to snorkel or swim without a wetsuit, certainly. It's running around 75-80 degrees right now, and even warmer next to the shore. But far out, past the break, I could reach down and find my hand on the cold side of a thermocline, which felt about 10 degrees colder. Very few people other than me ventured out there, and they didn't stay long. But that's where we found the sea turtles. Sometimes a little extra effort gets you a big bonus.