Looking on a map you might wonder about the remoteness of this park we're in. We are 85 miles from Gila Bend, which is itself a dot on the interstate highway in the midst of a lot of desert. Is there anything to do here, anything to see that we haven't seen in other desert parks (Death Valley, Joshua Tree, Anza-Borrego, Big Bend)?
The answer is of course "yes." I am constantly amazed at the diversity of deserts. This place is nothing like Anza-Borrego (which was nearer the Mojave desert). Here we are in the Sonoran desert, the only place where the iconic Saguaro cactus grows "" the one with the big arms that every associates with American deserts. In fact, there are forests of Saguaro here, along with the Organ Pipe cactus that the park is named for, and other creatures that live only in this one place.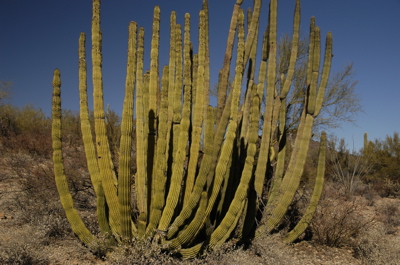 Probably the most famous is the Quitobaquito Desert Pupfish, which lives only in one place in the world, Quitobaquito Pond, a little spring just a few miles from here. Talk about endangered. This lively little fish has to survive in a little wet spot in the middle of a big desert, and if the pond has a drought, or if somebody introduces an invasive plant or animal, or if pollution gets too bad "" they're gone. The Desert Pupfish is a symbol of endangered creatures everywhere.
The Tohono O'odham Native Americans are another unique feature of this area. They have been here for centuries, and they still maintain many of their traditional practices, foods, and crafts. I am looking forward to driving through their nation on Rt 86 tomorrow. I'd like to try some of their prickly pear preserves, among other things!
In many of the desert parks you can find excellent viewing of the night sky. The stars in Anza Borrego were great, but here they are absolutely stupendous. Last night was crystal clear and the only light pollution was from Sonoyta, six miles away in Mexico. The stars were breathtaking just with the naked eye. (Too bad the temperature plunged from mid-70s to about 45 just a couple of hours after sunset!)
And finally, there's the educational aspect of desert National Parks. No matter how many we go to, we always learn and appreciate more about the desert and the living things that have inhabited it, whether people, animals, or plants. This morning, we learned quite a bit from a simple 1.2 mile hike.
The nature of our border problems has changed some of this park. For example, roads are closed in some places. This meant we couldn't go see Quitobaquito Pond. (But there is a small pond near the Visitor's Center which contains a transplanted community of pupfish.)
Hiking around, we spotted a pair of large blue flags hanging off a pole. These are markers for "humanitarian stations" for undocumented aliens "" e.g., emergency water for border crossers. Park staff and border patrol call them "UDAs". Too often they show up to find a new life in America, abandoned in the desert and not carrying nearly enough water or proper clothing for a 100 mile hike through lands that routinely reach 110 degrees in the summer. At other stations, the UDAs can avail themselves of solar-powered call boxes to call for help.
At night in the winter, the temperatures can be equally challenging. I guess we were spoiled by the mildness of Borrego Springs. Here, the wind comes up around 7 pm and the temperature plummets. We were forced to dig out all the warm clothing we have for the evening amphitheater program. We sat through "Intern Dan's" talk while wearing two shirts, fleece, jacket, hat and gloves, and sitting on a towel to insulate against the cold benches. The rest of the audience was similarly dressed "" we looked like a winter skating party.
Intern Dan gave us a fine presentation on the sounds of the desert animals. He'd play a sound and then have us guess which one it was. We were able to identify almost all of them (except the T-Rex he threw in as a curveball): great horned owl, coyote, mountain lion, Anna's Hummingbird, javelina, even the silence of the jackrabbit. Emma, sitting in the front row, thought it was great fun.
The batteries are dead again. I ran the generator for 3.5 hours yesterday, and the batteries were mostly re-charged, but the burden of the furnace running frequently this cold night has been too much. I'm sitting here at 5:30 a.m. and I can hear from the whine of the furnace motor that we are out of power. The battery status light on the monitor panel is blinking red. We won't be able to run the water pump this morning. Very frustrating.
We are leaving today, so I suppose I can take a shower after we are hitched up (with the truck running to supply power), but I can see we are going to have to come up with a better solution for boondocking nights in the cold desert.
Comments off