Marc (a blog reader) chastized me for implying that there was something wrong with the Big RV Resort. He made some good points about the necessity of full-hookup sites for vintage trailer owners who don't have gray tanks, and the ease of taking kids to places where there are swimming pools and entertainment.
I agree, especially about the full hookups. Our 77 Argosy only had a 10 gallon gray tank, and that just didn't cut the mustard for more than a day. But on the other hand, there are nice places with full hookups and not-so-nice places.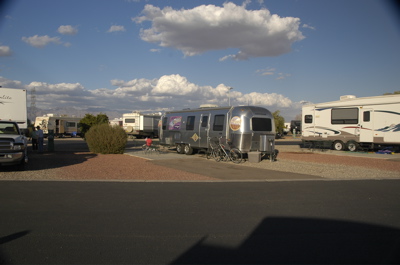 Our parking spot
The place we are in is nice in the sense that it is loaded with amenities. It's clean, comfortable, and well run. It caters to a crowd of Class A and big fifth wheel owners who want all the comforts of home. But there's nothing here other than the pool and the restaurant. It's sort of the RV equivalent of a Holiday Inn. The reason to be here is to have a home base to go somewhere else.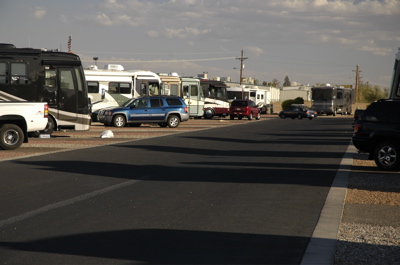 For Airstream spotters, there's not much to see. I only found one Airstream, a late-model Safari Bambi 19. The owners were out. But there are a few very impressive Class A motorhomes, including a few Prevost buses which have to cost about a million each.
For $33 a night (Good Sam discount rate), I think we are getting a decent deal. If the pool is warm, I might even say we are getting a great deal. (We'll check that tomorrow if it's a bit warmer than today.) Normally, we seek out state and national parks that are in themselves destinations, but when visiting a city such as Tucson, the "motel" is a good way to go.