Friends of ours from Nogales come up to Tucson every weekend to take advantage of the city's offerings. (There's not much to do in Nogales.) Since they've been here longer than we have, we asked to meet them in town to learn what sorts of places they like. They suggested lunch at the Hotel Congress, in the heart of downtown Tucson.
The Hotel Congress is a neat place. A fire on the third floor is famous for having flushed out John Dillinger in 1934, after a massive national manhunt failed to locate him and his gang. The hotel is still operating today, and is the kind of place I'd like to stay just to get a feel for the 1930s. The interior still feels appropriate to the period, with a few updates here and there. An old telephone switchboard is on display next to old telephone booths in the lobby which contain modern payphones. An old-time barber shop is still in operation off the lobby — I'd like to try it out.
Just off the lobby is a nightclub with frequent live entertainment, and another small pub. The overall sense I got was of an old Fred Harvey railroad hotel, probably because of the era and the use of native American designs throughout the interior. It's very much like the way Mary Elizabeth Coulter would decorate, but the architecture doesn't have her signature flair.
The lobby currently features art by Daniel Martin Diaz. Emma spotted one of his unusual designs and immediately had to try to copy it. She's got a bit of talent for art that I completely lack, so I am always impressed when she does this and try to stand back long enough to let her complete it. Besides, there was enough of visual interest for me to stay busy taking pictures. I've set up a small album on Flickr of other images from the Hotel Congress here.
We ate lunch in the "Cup Cafe," right off the lobby. It's a fairly small place with perhaps a dozen tables and bar seating, and more tables outside. The floor is paved with pennies. Being in the middle of the downtown, it attracts a lively and funky crowd. Here's the view I had during lunch …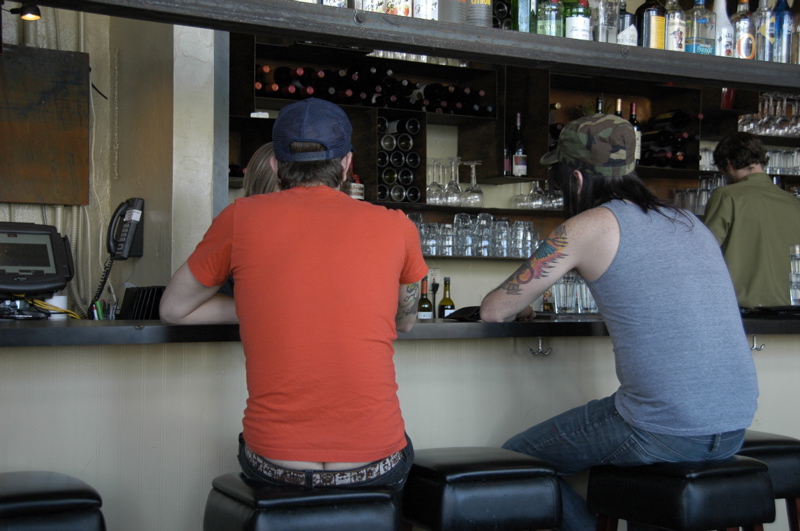 All through lunch I had to bite my tongue to avoid making, uh, wisecracks about the view. But if the view was less than appetizing, the lunch made up for it. Pretty darned good for a $9 lunch. We declined dessert, reluctantly, and headed out.
Being downtown made me realize how little of Tucson we've really had a chance to explore. There are so many cultural experiences, places, events, hikes, historic sites, and people to discover here. That's a good thing, because I wouldn't want to feel like I'd already "done everything" before we even finished the house! We are considering re-arranging our schedule yet again, to allow more time in Tucson. We'd do this by taking a week or two on the road in the Airstream in March and/or April, then returning to the house for a bit before heading out again for the summer. Nothing's finalized, but it is clear that our plans are very fluid right now.