From Albuquerque south we made very few stops yesterday. We paused for lunch and a water fill at a truck stop along I-25, then for chiles in Hatch, and not much else. It's a peculiar feeling to know that we are headed somewhere to stop indefinitely, and I think that contributed to a sense that we had no particular purpose for being on the road.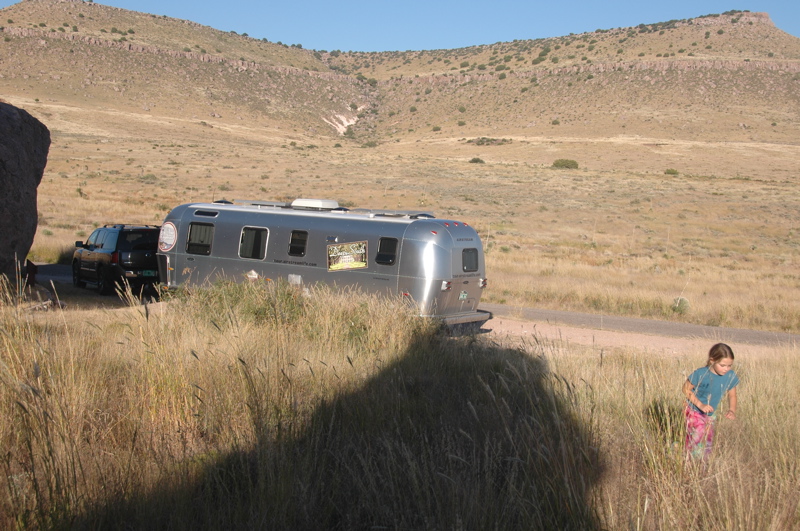 When you don't know where you are going, it's helpful to stop and take stock. So we pulled into City of Rocks State Park in southern New Mexico for a night. Eleanor and I remember City of Rocks from our only previous visit, in early 2000 when Emma was still a womb passenger. I remembered thinking back then that we should come back sometime and camp with a tent, but we never did. Finally, we've come back with an Airstream and an 8-year-old. The rocks are the same, but everything about us seems different.
Along the road yesterday I noticed that we've once again broken a belt in a trailer tire. That's (I think) the fifth one in a year. This particular tire was a TowMax Power King, which is sold by Les Schwab tire stores. At this point I have not found any brand that seems to last longer than any other. The TowMax on the other side is still holding up fine, as are the Goodyear Marathon and Carlisle, but none of them are older than a year.
The tire appears usable for now. The broken belt is revealing itself by unusually fast wear on the outer edge. In about 500 miles it will be bald there, but I'll replace it before then. Since we had the axles aligned in August, I'm fairly sure that this is not an alignment problem, but there will be no doubt when we remove it. A broken belt causes the tire to bulge out along the tread, which is what causes the rapid wear. I'll take pictures of the tire when it is removed, so you can see what I'm talking about.

We've got one more stop to make on this trip, in the remote town of Rodeo, NM. It's a tiny place 30 miles south of I-10 in a very lonely corner of New Mexico. There's an ultralight airport based there, run by a group of flying fanatics. Students who come down are housed in Airstreams parked on the property. We're going to head down there tonight and spend some time learning about the place and the people who run it. I may even get a chance to take a ride in one of the ultralights.
After that stop, we will head to Tucson, wash the trailer at a local truck stop, and then park it. It needs some maintenance. We've got a list of about a dozen things to do for it, including repairs, upgrades, and cleaning.
I have decided to extend the blog for a bit longer. In addition to having maintenance tasks to talk about, there are things that need to be said about the process of coming off the road. It's a very emotional change for us, and I don't want to underplay the significance of it. I also want to summarize some of my feelings about the past three years. Stopping travel (even for a little while) is a part of the process of full-timing, so it seems legitimate to continue the Tour of America blog long enough to cover all of those items.
This is a chance for you to ask questions, too, so if there's something you're wondering about, ask away! I'll blog our return to suburbia and all the other things over the next few days.