Last night we went out for dinner with Brett and Lori at Buca di Beppo, a family-style Italian restaurant. The only table available was the "kitchen table", literally right in the kitchen, which made for a lively and loud evening. Great food. Unfortunately I didn't bring my camera so the only picture I have is from the cell phone. It takes abominable pictures, but I punched up the contrast, sharpness, and color saturation a bit to get this: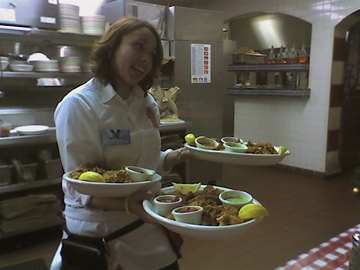 Today our friend Zach showed up with his Airstream Westfalia. We took him out with us on a few errands and stopped in at a local Farmer's Market on Hillsborough Ave.
This evening we got Barry & Sue to join us for dinner in the trailer for some amazing Italian thing with pasta and chicken that Eleanor whipped up. Appetizers were prepped by Emma and I: two kinds of Italian sausage, fontina and parmesan cheese, olives, and carambola fruit. Desserts: hazelnut-lemon cookies, hazelnut cream-filled chocolates, canteloupe, cinnamon cashews. I think Eleanor was inspired by our dinner the night before.
Being somewhat notorious, we occasionally get invitations from local communities to come visit and see what they have. Long-time readers of this blog will recall our visit to Taylor TX for some fabulous barbecue, which was the direct result of an invitation by local boosters. It's always flattering when someone invites us to come visit, but we often have to decline because they aren't near our travel route. But nobody has ever gone as far as Jody Brotherston …
About a year ago, Jody, a contributor to the magazine, began a campaign to get us to come to Ruston LA, where she lives. We missed stopping in last April when we drove by, so this year she has accelerated her efforts. The first salvo:
October 19: "Will you be heading across the interstate to Texas in early December? If I could arrange a comp. camp site on the lake through the Chamber of Commerce, perhaps you could spend a day in Ruston and speak to the local businessmen at lunch about Virtual Entrepreneurship…same thing you did for the aviation program? There is a terrific hands on explorium for children at the University that is open until Dec. 19 when the university closes."
As I recall, I gave Jody a tentative "maybe" but all the while I was thinking that Ruston would represent a large detour from our planned route into Texas …
Undeterred, she followed up on December 3: " What would it take to invite you to Ruston to speak to a group of businessmen about your really unique way of life while running a very successful business? I am going to take an issue to the Mayor and see about an official invitation as we have a little known wonderful city park on a lake that is a great campsite….we will certainly host your visit, and take Emma to the hands on children's museum."
My response: "It's a little premature for me to be talking to anyone about running a successful business!"
Then on December 16: "The Squire Creek Country Club would like to invite you to visit and do a program for the ladies lunch program….."
Yesterday, December 20, Jody stepped up the pressure. She called the Mayor of Ruston and I received the following note from him:
"On behalf of the City of Ruston and Lincoln Parish, I should like to invite you to consider paying a visit to our community on your next tour through our wonderful country." He went on to mention the Airstream he and his wife owned for 20 years, and the great "Ruston peaches". To top it off, he mentioned that we could stay for free at the local Lincoln Parish park. I guess word is out that we are camping cheapskates.
I began to crack at this point. I emailed Hizzoner and Jody that perhaps we could make a change to our plans and go to northern Louisiana for a little while. That seemed to encourage them, because today the latest salvo in Jody's campaign arrived, from the President of the Ruston-Lincoln Chamber of Commerce, a Mr. Scott Terry. This invitation was unique:
"… I also want to invite you to visit our little city to experience the great life here in the north Louisiana. I believe the Mayor's office is sending you a packet filled with information regarding the Ruston area. However, there are some facts that are sometimes overlooked."
Oh, and what are they?
"Not that you can see it in the distance, but we are located fairly close to Mount Driskell (the highest point in Louisiana at 535 ft. above sea level). We promise you will not suffer from high-altitude sickness as some people do when visiting the Rockies.
That alleviates a major concern. But wait, there's more!
"Bonnie and Clyde (famous outlaws in the 1930's) were ambushed near here. The gang actually kidnapped one of our high school teachers. This local lady (100 yrs. old) still lives in Ruston. Amazingly, the marker designating the actual ambush spot along the rural highway looks like it was there during the ambush. It seems that some of the hunters use the granite marker to sight in their hunting rifles."
That's two people we need to meet: the centegenarian kidnapee, and Mr. Terry himself. You don't often meet a member of the Chamber of Commerce with a sense of humor! And yet, unbelievably, he had even more amazing attractions for us to sample in Lincoln Parish:
"As hard as it may seem to believe, the Mountain Bike Trail at Lincoln Parish Park is ranked as one of the top trails in the country. Most people believe the best mountain bike trails are in the mountains"¦ until they visit our trail in Louisiana."
Right, who needs mountains for mountain biking? Makes it too hard. I think I might prefer this format of "mountainless mountain biking". But here's the real topper:
"Lincoln Parish was home to a Nazi POW Camp."
Come on now, haven't you always wanted to see a Nazi POW camp? Actually, I've never even heard of one. Did they really ship Nazi prisoners all the way to Louisiana, or is he just pulling my leg? And of course, for the final temptation, he had to mention the peaches again:
"We grow the sweetest peaches in the country. And, we're just really nice folks who know how to show our old-fashioned southern hospitality."
So I give up. We'll come to Ruston, already! Free camping, a chance to blather on in front of the locals, fresh peaches, a POW camp, and (apparently) eccentric locals — who could ask for more?