We've moved a few times in our lives, but I have never had as much fun getting to know a place as I am having discovering Tucson. It's an interesting place, despite the near-rabid attempts by local real estate developers to turn every square inch into a chain retail store. Like a lot of desert communities, Tucson has had a healthy share of local oddities, western lore, and quirky individuals. I'm trying to find them all before they disappear forever.
One such place is the Valley of the Moon. This is a special little fantasy park for children, made by a very special person decades ago. It's in serious danger of closing forever. Today (Jan 19) the foundation that administers the park held an open house to try to save it. Click the link above and read the story of George Phar Legler — it's inspirational.
Another such place is the last drive-in theater in Tucson. It's called the De Anza drive-in, and it has been on the chopping block for a while, as out-of-state land owners wait for Tucson real estate prices to rise enough to make a profit by turning it into yet another shopping center. They've been waiting since 1997.
The De Anza was once one of a dozen drive-ins in Tucson, but of course they've all closed over the decades. Now the De Anza is surrounded by the city's sprawl, but it still shows a double feature every night. We'll go there sometime in the next two weeks, because you never know …
Think I'm paranoid? Well, when we bought our house in May there was a neat old mini-golf place a couple of miles away, called Magic Carpet Golf. We made a mental note to drop in on it and play a round among the old-time statues and corny sets. But when we got back this December, we found the Magic Carpet Golf had closed. Recent reviews have not been kind to it, but it was a Tucson institution for decades, and it's a shame to see it gone. There's still a chance the statues will be saved, however, thanks to active members of Vanishing Tucson group (on Yahoo).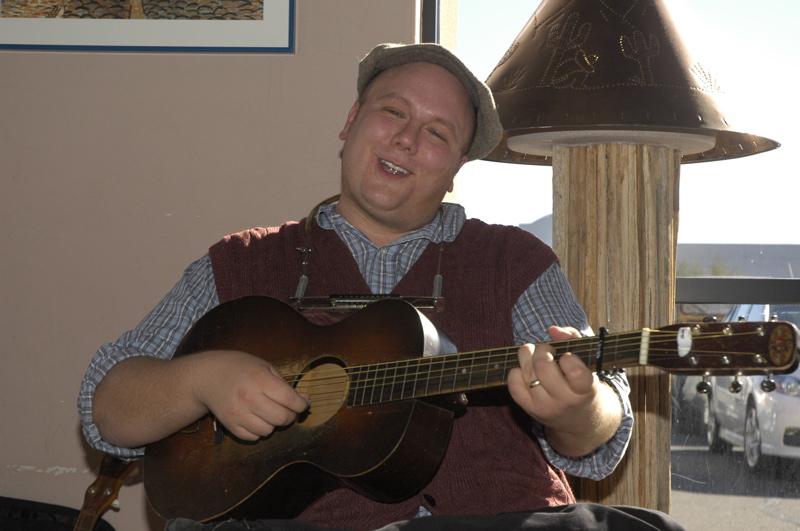 Today Emma and I went over to see Jack Norton, "The Man From Mullet River" perform at a local coffee shop. I happened upon Jack during an Internet search for ukulele music in Tucson. He does a fun show with his banjo, guitar, ukulele, harmonica and an amazing invisible trumpet. Jack is sort of a one-man revival of vaudeille music, and I like to see people who keep neat old things alive. I'll even buy his CD. (But don't be too flattered, Jack. I have the same respect for people who sustain lines of heirloom vegetables.)
Brett arrived today, which was great because we haven't seen him in a while, and because it caused us to get serious about making the house habitable. Eleanor got busy cleaning the bathroom of plaster remnants, hanging shower curtains, and picking the scraps of vinyl floor and old sinks out of the tubs. We now have two usable bathrooms, albeit without cabinets or sinks yet. The giant refrigerator is stocked with cold drinks and all the things we couldn't fit into our little Airstream refrigerator over the past two years, and we have wood for the fireplace. This house is starting to become home.