Today I was lucky enough to join other members of the group "Vanishing Tucson" at Magic Carpet Golf, on East Speedway Blvd. This old course finally closed recently, ending what I believe was a 50+ year stretch of business in Tucson. It will eventually be razed to become a parking lot.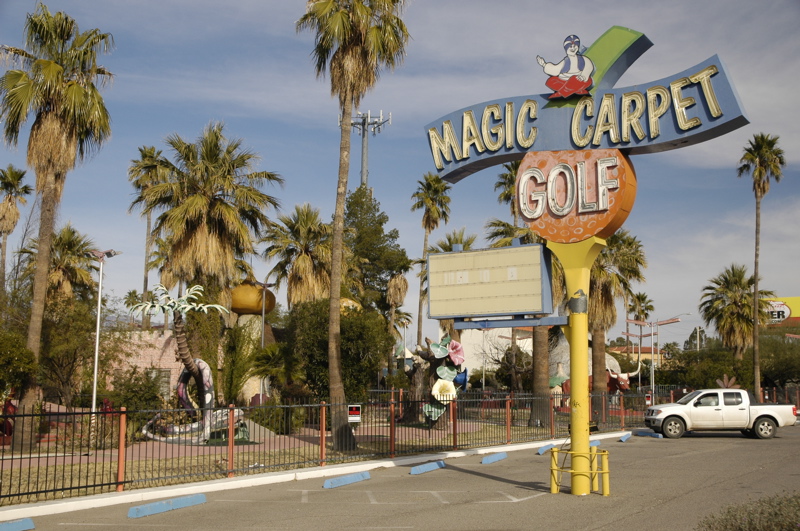 Magic Carpet Golf is one of those places that long-time Tucsonians remember dearly from their childhood. The entire place was handmade with fantastic concrete sculptures, colored lights, and exotic scenes. It became rather shabby toward the end, but still the sculptures stand in testimony of decades of service.
There is talk of moving the sculptures to another location for preservation, but I don't see how it will be possible. They are delicate and crumbling, made on-site mostly from wire and concrete, and in many cases firmly anchored to the ground. Moving that T-Rex would be an operation akin to removing a real 65-million year-old dino fossil.
So about a dozen of us went over to take pictures today. The caretaker let us in (by prior appointment) and we wandered through the grounds looking for history and art. We found decay and mold, rotten wood and torn "greens", but also a bit of imagination and fantasy.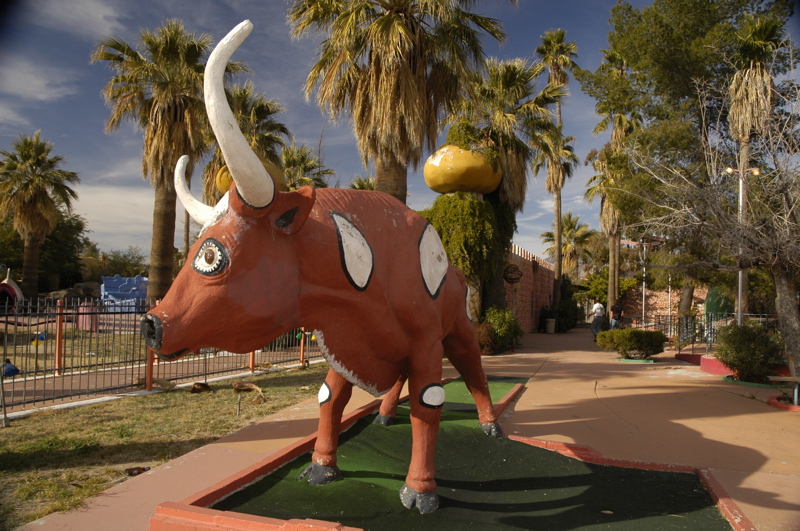 Someday Magic Carpet Golf will be only a memory. The undulating greens will be smoothed, the dinosaur and giant monkey will be reduced to powder, the buildings will be torn down and the palm trees will be dug up and sold. When that happens, we'll have the photos, and they will eventually be treasured by someone who wants to see how things looked in the old days.
I guess I'm getting a particular appreciation for this sort of thing because I am often looking for historical photos these days. In Airstream Life magazine we regularly publish articles about the history of Airstream, Wally Byam, travel trailer manufacture, and exotic caravans. When I find a family photo of someone's vacation to the Florida Keys or Niagara Falls taken in the 1950s, it's like finding a nugget of gold. That ordinary snapshot becomes a little piece of history preserved.
Every detail is important: the car they drove, the clothes they wore, the buildings in the background, uniforms, roadways … my authors often pore over such photos for days, looking for tiny clues to how things used to be, so we can share them with the magazine readers. I can only hope my photos of Magic Carpet Golf will be half as well received by some author in fifty years. (You can see many more photos on my Flickr album.)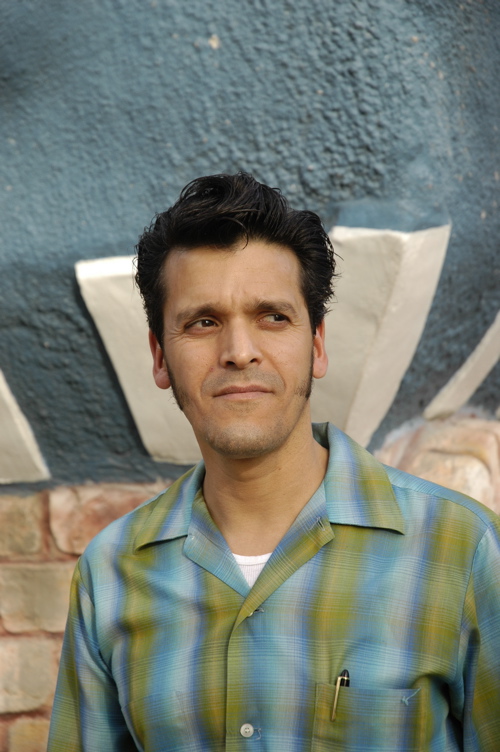 In any case, I am indebted to the leader of our group, Carlos, who takes a personal interest in the historic pieces of Tucson that are being quickly reduced to parking lots and sterile chain retail stores. I'm looking forward to a few more opportunities like this, documenting pieces of Tucson that have nearly vanished or are in danger of disappearing soon. It's a way to bond with the city and learn more about it, and a good way to keep my camera at work too!