Did I mention it's cold here? The locals are swearing it's just a spell, and "it hardly ever gets this cold," but every night the low temperature seems to be lower, and three nights in a row our water hose has frozen solid.
Fortunately, it warms up nicely during the day, so Eleanor and Emma are able to walk about town and take care of business (laundry, post office, playground). They also spent half a day trying on Emma's clothes and bringing a huge pile of stuff that she had outgrown to the local Thrift Shop. Meanwhile, I've been working so much in the Public Library that all the librarians know me and I have a regular space. The world headquarters of Airstream Life are at the square table by the window, first room on the left.
There's not much in the way of grocery shopping here, so we took advice and headed 19 miles south to Nogales (AZ) to visit the big stores there. Nogales is actually a big town with all the usual big-box development. But it's like visiting Berlin before the wall fell; the city is divided by a giant fence. Across the fence lies Mexico.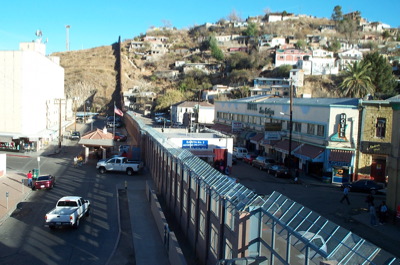 Of course we couldn't resist taking a peek, but overall it was disappointing. If you take the lesser-known east entrance off the end of Morley Ave, you end up in a sleazy bar/massage parlor district. If you cross over the train tracks and take the west entrance by the big US Customs Building, it is exactly like downtown Tijuana: streets lined with vendors, all selling the same junk. Silver jewelry with questionable stones, pottery, prescription drugs, leather bags, dust collectors, and then they repeat over and over again.
For some reason I found myself buying a "wool" poncho made of, I believe, acrylic. Probably it was the thrill of haggling over the price that motivated me. I ended up with it for $21 and a sense that if I wore it anywhere in the southwestern states I would cause locals to snicker. The bargains are better at Wal-Mart.
Nogales will probably be our only border town experience. Frankly, once you've seen one, you've seen them all. I'm sorry now that we didn't go through Sonoyta to Puerto Peñasco when we were in Organ Pipe Cactus National Monument. That would likely have been more interesting than Nogales, and quite a bit more authentic, too. I doubt we are going to have a similar opportunity in Texas, since our time near the border will be short. Next time we go into Mexico it will be for a much longer visit, with the Airstream (perhaps next winter!)
There isn't much in Patagonia for Emma, so we are going to move out a couple of days earlier than planned. Sunday is set for a visit to Tombstone and Bisbee, then Monday we will move up to Tucson for hiking, museums and whatever else Tucson has to offer.