About an hour's drive east of Patagonia are Tombstone, "The town too tough to die," and Bisbee. We left the Airstream parked at 4th and Duquesne, and Charlie reading on a park bench in the center of Patagonia, and took off for a full day of exploration.
We had been warned that Tombstone is basically a tourist trap. Imagine something like "South of the Border" with an old west theme and you've got it. But we wanted to take a look and give Emma a chance to see a wild west show, so we strolled down the dusty gravel street of old Tombstone.
There is some real history here, but you've got to look closely. There's a state historic park in the old courthouse ($5 admission), and many houses have plaques identifying their historic status. But around town you'll also find a lot of reproduction buildings, tons of merchants with silly names ( "Pony Espresso," "OK Café," etc.) and people in period costumes with cell phones on their gunbelts.
It is old west history run ragged. But I should say that the locals were very nice and went out of their way to make sure everyone on the street was having a good time. And there is authenticity still alive in Tombstone. Some of the actors in the wild west show lead long trail rides up into the mountains as their primary vocations. Talking to them about their horses and their love of the open spaces made me realize the western spirit was still alive. It's just different these days.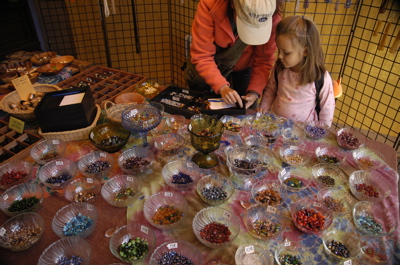 Shopping for beads in Bisbee
Still, it took only 90 minutes to feel like we'd seen enough of Tombstone (and that included 30 minutes in the wild west show), so we headed off to Bisbee, 30 miles down the road. Bisbee is a former copper mining town that now seems to be taken over by artists "" which has made it an attractive and interesting place to visit, especially the downtown.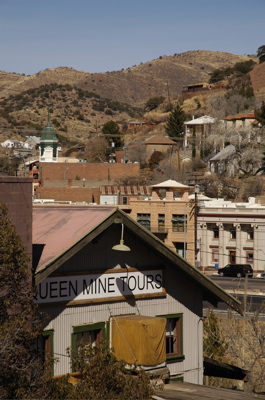 The major attraction of Bisbee is the Copper Queen Mine Tour, which takes you hundreds of feet beneath the surface of a hill to see how copper was mined from the 1800s through the middle of the 20th century. It's a worthwhile visit, and there's an RV park right on the premises that gives you easy walking access to downtown too.
I won't give away too much about the mine tour, but here's one thing you might see in there. Can you imagine what this piece of equipment is for? I'll tell you in the next blog entry.

Mystery equipment in the mine?
There are two other "must see" things in Bisbee. One is the Bisbee Mining and Historical Museum, right downtown, in front of the Copper Queen Hotel. The other is The Shady Dell, a sort of campground/hotel filled with classic old aluminum travel trailers. You can spend the night in any of the restored trailers. (We featured The Shady Dell in a past issue of Airstream Life.) Amazingly, I completely spaced on The Shady Dell and forgot to drop in! Unbelievable "¦
There's a lot to check out in Bisbee, so perhaps we'll go again later this week. But we've got a lot on the schedule, including Kartchner Caverns, Pima Air Museum, and some great hiking. It's going to be tough fitting it all in. Plus, we've got a houseguest coming on Thursday "" or is that trailerguest? I'll tell you about that later this week too.