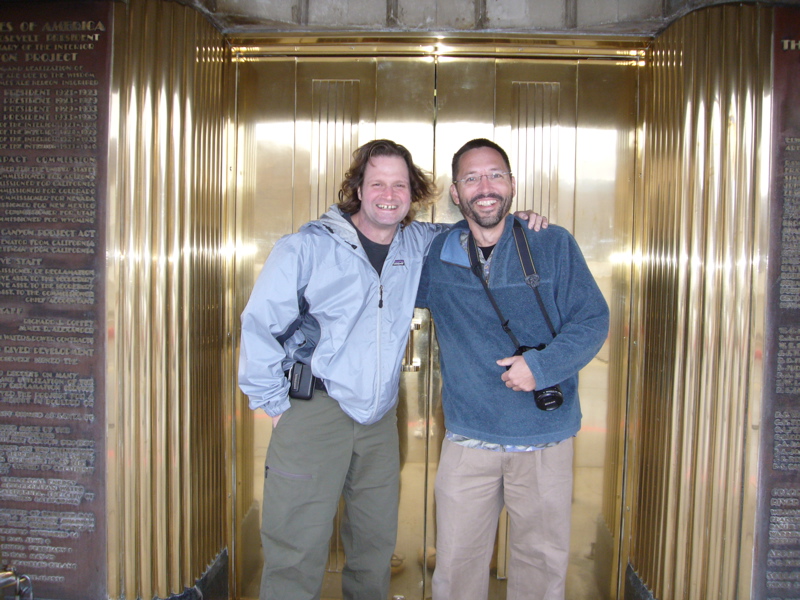 I've met up with good Airstream friends Adam and Susan here in Las Vegas. Since Friday turned out to be a quieter day than I expected, I was able to take the afternoon off and go with them to Hoover Dam. It's only about 30 minutes from Las Vegas.
I've blogged the dam before, and taken the tour, but I have to say that it is a thrill to visit even the second time. Uncharacteristically, Black Canyon (where the dam sits) was filled with low gray clouds and frequent rain. It was still beautiful to see, perhaps even more than usual, with the fog drifting through. I hadn't noticed before how much of the interior architecture is Art Deco styled, nor that there's actually a Men's Room with terrazzo floors built into the top of the dam.
Visually, a lot in this area is beautiful, or at least colorful and interesting. It's a great place to take pictures. So I'm going to create a new Flickr photo collection for some of the Las Vegas images I've captured this week. See it here.
Brian and Leigh have continued to give me some training at poker, and I'm going to give their lessons a test tonight. They have invited about eight people over for a Saturday night "home game". If I fail, it will be because they didn't teach me well, and if I succeed it will be because I am brilliant. (Just kidding.) It will actually be just a fun evening with some new people, and Brian and Leigh are excellent teachers regardless.