We're down to the home stretch. This Sunday, we leave, whether the house is done or not. Every day we tackle lists of things that both the house and the Airstream need, and we try not to think about how much more there is to do.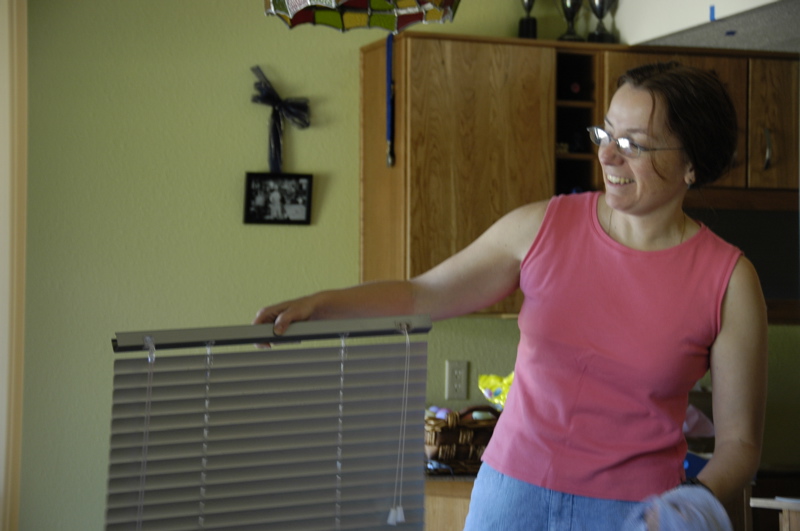 We've made this harder for ourselves than it had to be, strictly speaking. We didn't have to thoroughly remove everything from the Airstream, clean, sort, and then re-load, but we wanted to. We won't have another chance to do this for at least six months. So Eleanor has been taking the time to clean those things that have been bugging her, like the aluminum kitchen blinds.
Those blinds sit right by the stove and they get dusty and greasy. It turns out that if you try to clean those blinds in place, they tend to get bent and creased. The better way to go is to take them out entirely and soak them in the tub, which is what Eleanor did, among many other tasks inside the Airstream.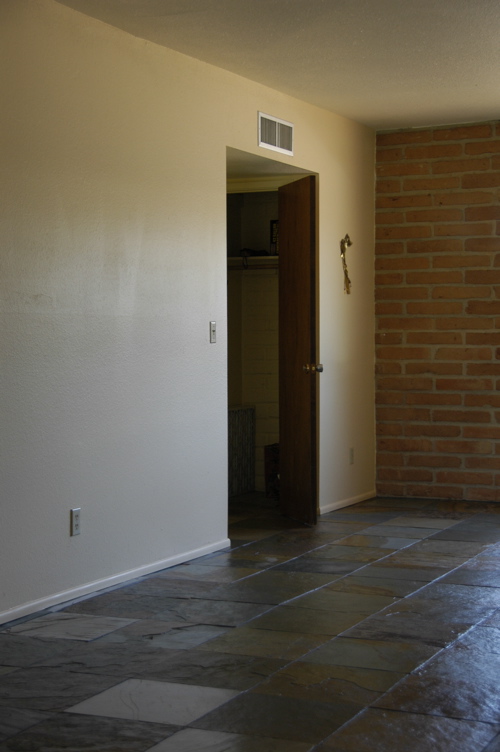 I have mostly been doing stuff in the house. The big job was to finish sealing the slate floors in the dining room and living room. We used a matte sealant but when they are first done the effect is very glossy. It will eventually calm down, so I took a picture to remember how it looked.
I also took the little Honda out to have its windows tinted, in preparation for life in Arizona. Even though it will sit in the carport all summer, the tint is nice to have for Arizona's intense spring and fall sunlight. We are already entering the warm season, with mid-80s every day. Crickets have moved into the house and are chirping merrily away each evening. The first days in the 90s are only a couple of weeks away.
There are a thousand lesser things on the list: adding fuel stabilizer to the car, removing things from the backyard that might make good snake homes, turning off the water heater, etc. It's a lot like the pre-departure checklist we use for the Airstream, but everything is bigger and takes longer.
Today our second Airstream guests of the week arrived: Bert & Janie Gildart. They just came out of Organ Pipe Cactus National Monument, and squeezed into the space formerly occupied by the Welshes last month. Bert & Janie have a Safari 28 with slide-out, but there's no room for the slide right now. They'll be here a few days, but mostly on their own as we continue to hustle around the house trying to get ready.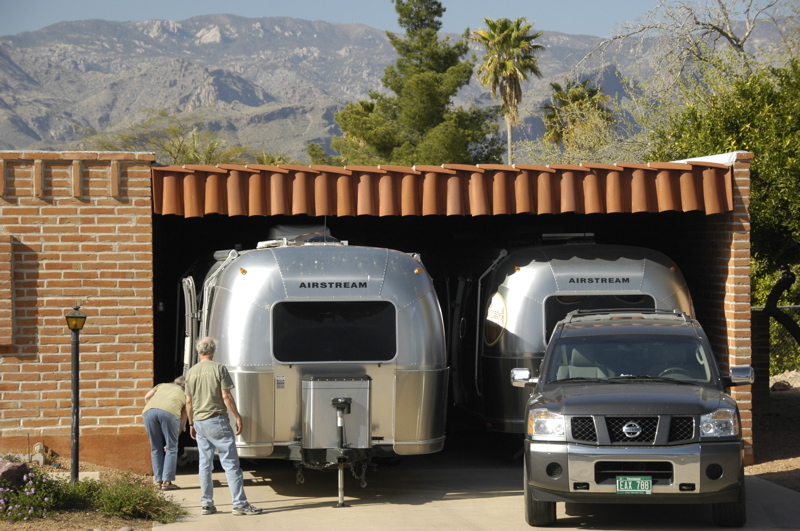 Bert backed the Airstream into the carport exactly in the right spot, on the first attempt. I thought Bobby had done a good job but Bert made it look downright easy.
I had to get a picture of the two Airstreams right away, because Thursday morning ours is going over to the local Airstream dealer for service on that non-functional heat pump. Once we are out of the way, Bert will be able to deploy their slide-out. Then we'll bring our trailer back on Friday night for the last two nights.
Susan and Adam called in from Texas and said they'll be in town on Friday. They are going to park their Airstream Class C down the road at a campground until it's time to launch the caravan to Mexico on Sunday.
I haven't decided if it will actually be a caravan. Caravaning implies that we all leave together and travel together, like a trucker's convoy. I really prefer not to do that.
In the past, we've traveled very loosely with friends. Our usual mode is to tell everyone where to end up, and let them all travel on their own schedule. That way we are all able to be independent and nobody is chafing because somebody else slept in, or didn't want to take a bathroom stop, etc.
Also, while we would all help each other whenever possible, I don't want to be responsible for holding someone's hand every step of the way — it doubles my responsibilities and makes a trip seem like work. So I tell everyone, "You're on your own. If you have a problem, give a call and we'll try to help, but no promises. Drive like you are traveling alone, because you probably will be." Fortunately, all of our friends are pretty independent and self-reliant, and they have no problem with this. They are bright enough to prepare in advance (for example, getting good insurance with English-speaking telephone assistance) and they know how a smile and a few words of the native tongue can work miracles when there's a problem.
Another reason I prefer not to caravan is that it is a nuisance to try to find a place to park three big Airstreams all at once, such as for lunch. One of us can pull over to check out that interesting-looking little taco stand, but with all three we'd probably have to pass it up. In all sorts of situations (getting fuel, stopping for border inspection, checking out a scenic vista), it's easier if we arrive separately rather than in a bunch.
One reason to keep the vehicles together might be that there are more unusual circumstances on the roads in Mexico. For example, I have heard from other Mexican caravanners that the lead vehicle alerts the following ones by CB radio of speed bumps (topes, pronounced "tow-pays") coming up. But my feeling is that you shouldn't drive hoping someone in front of you will tell you what to do. Why, after 50,000 miles of towing, would I suddenly stop looking out for myself? Keeping my eyes open and my head focused on the task has helped us avoid a lot of problems so far.
This brings up another frequently-asked question: Do we have a CB radio? No, we don't. If we did more caravaning it would probably be indispensable, but with our type of travel I haven't yet felt the need. I know lots of people who do have CB radios and they love them for getting reports from truckers and others on the road, so I'm not saying they aren't useful. But we have two cell phones, mobile Internet, a GPS with a multi-million point database, maps, and the ability to stop and ask questions when we need to. I haven't felt the need for more.
We do carry walkie-talkies and have used them a few times, but mostly we use cell phones and the policy above. On this trip I'll be the only person with an operable (Mexican) cell phone, so with the limited communications and our unfamiliarity with the roads, we may choose to caravan tightly on certain stretches. For those times we'll assign a walkie-talkie to everyone, so they can communicate at close distances, and the rest of the time we'll just say, "See you there."