Ever have one of those days where you did everything except the one thing you planned to do? That was today. We had been looking forward to visiting the Pea Island Wildlife Refuge but it once again got shoved back in the schedule for a thousand little things. Even though the day dawned bright and beautiful, we stayed in the trailer most of the morning.
Not that it has been bad. Through a series of emails and phone calls and map reviews, we have finally developed a plan for our last two weeks of travel (before we settle into Vermont for the month of June). We'll be visiting Assateague National Wildlife Refuge, doing some courtesy parking, and hopefully getting some service on the trailer too. We've got a bunch of interesting stops worked into this plan, so it should be a good time.
Emma and Eleanor made "Strawberry shrub," which is apparently mashed fresh strawberries steeped in lemon juice, sugar, and water. It made a nice drink and a good project to learn about cooking measures (cups, pints, quarts, etc).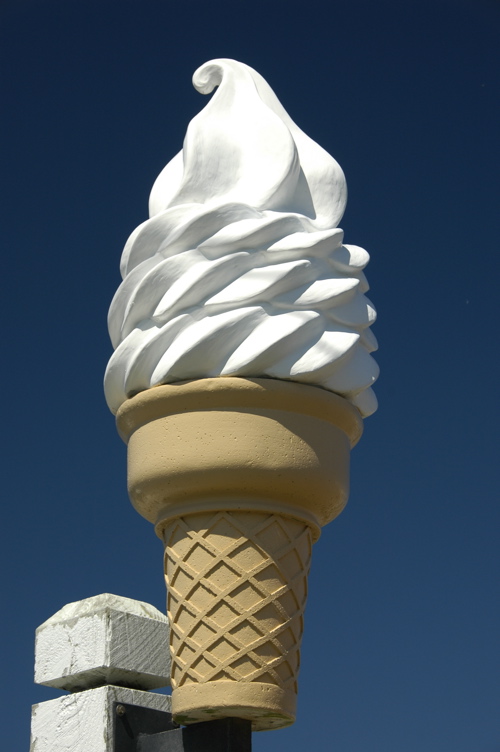 We set out for lunch with a decadent plan to find the Orange Blossom Bakery and eat "Apple Uglies" for lunch. But it wasn't open — for reasons we could not discern, since the shop doesn't post its hours of operation. Thus we were not able to get Karen the cookbook she wanted (see comments from previous entries). We may try again tomorrow on our way out.
Seeking consolation, we stopped at Uncle Eddy's Frozen Custard and Mini-Golf … and had custard for lunch instead. I don't think you can find a more nutritionally unbalanced meal. Something was apparently telling us to go nuts today.
As you can see from the photo above, we did find the OBX "Spaceship" parked next to a junkyard. It appears to be a Futuro house. The owners have decorated it with alien pictures and mannequin heads, and the interior seems to be in tough shape. It would be an interesting restoration project.
In the afternoon we were happy to find our friends Zach and Deb arrived at Frisco in their Airstream Westfalia. We've been expecting them for days. Zach is an old friend from the days when I lived the bachelor life in the Boston area. We've stayed in touch for years, and lately he and Deb have produced an heir: 3-month old Zane. The three of them are off on their first long trip together, with three dogs … all in a B-van. They seem to do fine.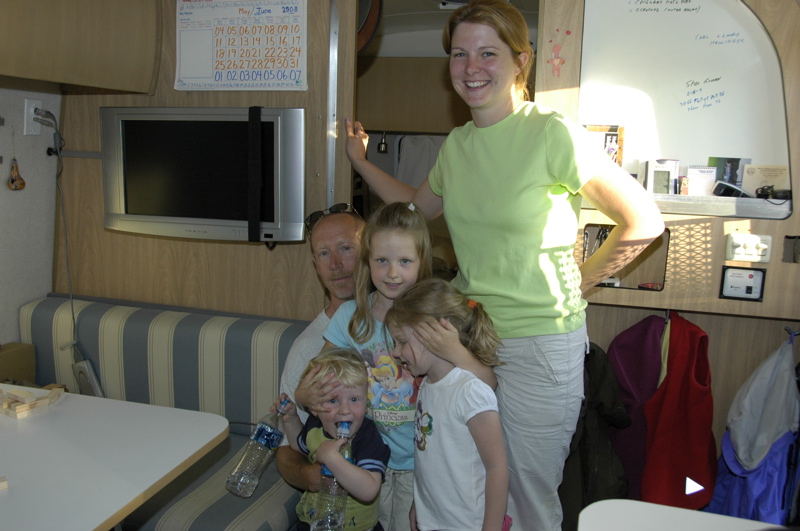 We were happily engaged in catching up when a late-model Airstream Safari Special Edition rolled up, with two adults and three children in the truck. Carl and Laurie Hallinger were scouting for a site for the weekend and happened upon us.
It turns out that Carl has followed this blog from time to time, and also has all the back issues of Airstream Life. They got parked and came back half an hour later to meet up. That launched a whole 'nother discussion, and suddenly it was 7 p.m. … and the day was wrapping up. I hope to meet up with them again sometime.
We're going to start moving again, but not far. Tomorrow's tow takes us first to the dump station at Cape Point campground (near the Hatteras Lighthouse), since Frisco doesn't have one, and then 50 miles north to Oregon Inlet campground. We'll spend another couple of nights there before we leave the Outer Banks for good.