A lot of people have been talking about how increasing fuel prices will affect RV and vacation travel. The general consensus is that Americans aren't ready to eliminate the things they love, which includes traveling, but people are ready to cut back some.
We're included in that. The easiest thing we can do to combat increase fuel costs is to drive less. It's simple. There's so much to see and do in this country that you don't have to go terribly far to find interesting things. Although we are crossing the continent (and will do so again in late summer), we are finding that it's not difficult to cut miles out of the route and still be well entertained along the way.
In fact, we are finding that taking the "blue highways" (non-Interstate highways in other words), we travel more slowly, save fuel, and see little things that we would have missed in a rush to get somewhere else.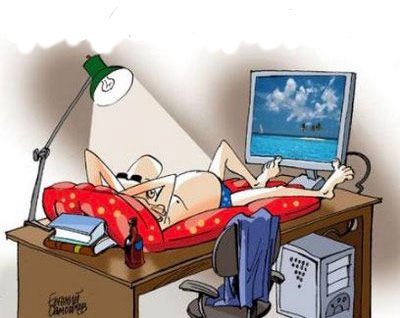 A "Staycation"
Bert wrote to me today about his travel plans this weekend:
This Memorial Day Janie and I are taking a "Staycation," a new word that I bet becomes a little more popular as time goes by. What people should learn to do (even when traveling) is to park a little longer and learn to use kayaks, bikes, hiking shoes, etc.
Bert & Janie are experts at that. They get to a place and really work it over, using their own muscles and imagination. We've been guilty of hitting a great spot and bailing out after a few days when there was still much more to do, and as a result we rarely get as much out of a place as they do. When we parked together in Yellowstone last October I was at first leery of their intent to stay five or six days, and every time Bert said, "I think we might stay another day to go see the XXX…" I'd be thinking about our next planned stop.
Well, I was glad we hung back and followed Bert & Janie around. They reminded me that just puttering in a park (taking photos, mucking around looking for moose, exploring town) is way better than a day in the office. We ended up in Yellowstone and West Yellowstone for eight or nine days, I believe. I came out of there far from bored, but instead having a much higher appreciation for the park and looking forward to coming back.
A Staycation is sort of what we are doing here in New Hope. We could be driving all over the place but instead we have been spending most of our time on site just enjoying what we have right here. Every day we spend here is an opportunity to build up the treasury for the days we need to tow the Airstream, and a chance to discover something small that we otherwise would have overlooked.
I want to put together a list of similar ideas, which will show people how to save money RV'ing. I want the list to go beyond the usual "make sure your tires are inflated" sort of advice. Those tips are useful but we've all heard them before. What can we do to really cut our expenses and yet still have an amazing trip?
One idea I know people have caught onto is to explore local state parks. I'm getting regular reports from people saying that state parks are filled to capacity nearly everywhere this weekend. State parks are generally cheaper than campgrounds and are usually in great locations.
Another idea is to courtesy park at a friend's house instead of a campground, if you know someone who can host your rig. The money you save ($25-35 per day, typically) can offset higher fuel cost. With this idea, you can't wait for someone to offer. You have to ask (gently) if they would be willing to host you, because the idea won't occur to anyone who doesn't already own an RV. It's a good way to reconnect with old friends, and many will find it an exciting novelty to have you visit in your rig.
I'd also like to debunk some of the less-useful advice I often hear or read in RV magazines and books. For example, you've probably heard the advice to travel with an empty water tank, or lighten your RV, to save fuel. While this does have an impact, it's very small in the overall price of the typical highway trip.
We've never been able to document a significant MPG difference by traveling with an empty water tank even though that's a difference in weight of about 300 lbs. The reason? Most of your fuel economy is based on the aerodynamic efficiency of your rig, not its weight. Weight makes a huge difference to jumbo jets, but not nearly as much (as a percentage of overall fuel used) to trucks.
It would be better practice to look at your truck & trailer and try to find opportunities to streamline them. Maybe this is the time to remove some optional attachments that are contributing to your trailer's parasitic drag coefficient, like that giant satellite dish, ham radio antenna, and curbside window awnings? I know you love those things, but it's just a suggestion. Even better would be to replace your square-cornered RV with an aerodynamic one (hint, hint) that gets 20% better fuel economy! (But wait till the old one is worn out — you don't want to lose all your potential savings in depreciation cost instead.)
Here's another one: switch your non-tow vehicle to something fuel efficient. That's why we drive a Nissan Armada when we are towing, and a 37 MPG Honda the rest of the time. Filling the tank of a big SUV can cost up to $150 these days, and yet people still drive them around town for commuting and errands. Unless we're moving plywood or an Airstream, our Armada stays parked.
Besides, I'd like the Armada to last longer. Big SUVs are dinosaurs, and the meteor just hit. In 2009 a lot of them will disappear, and in 2010 even more will be extinct. I like the Armada for towing and if I can keep the commuting miles off it, I may still have it in 2011 when my choices of a replacement tow vehicle will likely be far fewer.
Finally, if you really want to save big, try just going the same distance but slower. I've been harping on this theme for a while because of the incredible savings we discovered by going 60 MPH rather than 65 or 70. Talk about a painless way to save!
Overall, I'm not terribly upset about the prospect of parking more and driving less. Some of our best stops have the unexpected weeks in places where "there's nothing to do," like our week in Victor, ID two summers ago. Remember, it's about having a good time, making memories, connecting with family and friends, and engaging in your hobbies. It's not about driving.