Secluded here on the green lawn behind hedges and shaded by tall trees, with a view to open fields being plowed, it has been easy to forget the world outside. I nearly forgot it was Memorial Day. We made no plans other than to walk the downtown of New Hope, and to get prepared for our tow to Colonial Airstream tomorrow.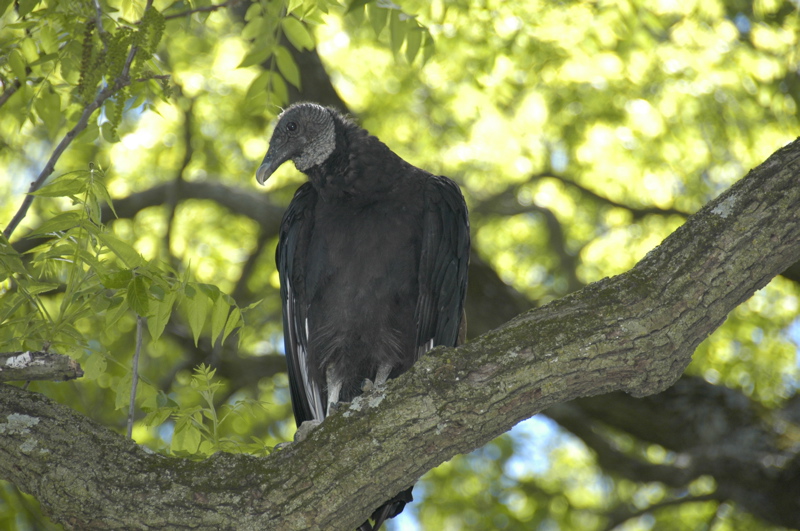 We got the Airstream hitched up to our hosts' 1996 Suburban, and towed it around town a little to get the brake controller dialed in. We were lucky that the receiver height on the 'burb was about the same as our Armada, and the brake controller is compatible with our electrically actuated disc brake system as well.
I was beginning to think the vulture who parked himself over our Airstream was a bad omen, but it turns out he was just curious. We seem to be all set to use Peter's truck to tow our Airstream for the day. Transitioning to it from the Nissan was a no-brainer.
The plan is this: in the early morning Emma's grandparents will swoop in and take Emma off to Vermont. Eleanor will drive the Nissan following me while I drive the Suburban (with Airstream) to Colonial Airstream. We'll drop the Airstream there for its service appointment, then drive both trucks to the Nissan dealer nearby where we will drop the Nissan for its service appointment.
Then we'll return to New Hope (70 miles away) to pick up the Honda, drop off the Suburban, and return once again to Lakewood NJ to the Airstream. After about six hours of shuttling vehicles around New Jersey, I think we'll be ready for a break, but our Airstream's bedroom will probably be gone by then as a result of the nature of the work that is planned. So the plan is to check in at a local hotel for the next two nights. We will catch up with Emma in Vermont in about a week, hopefully with all of our equipment back in perfect order.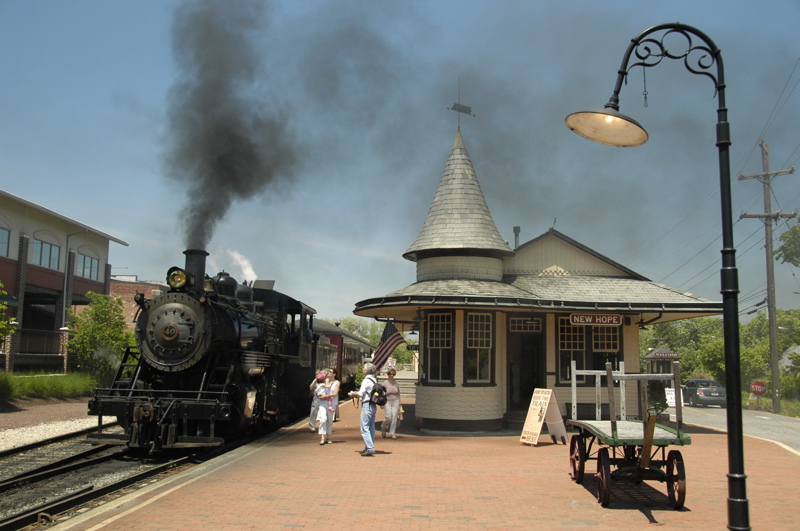 We've really undershot the potential of this area. There are interesting things to see and do everywhere, and we've missed most of them, in favor of just hanging around. That's not like us, but with all of the logistics planning, it was probably the best thing to do. I got ahead on some Fall 2008 magazine work on Sunday, which will make the complicated week to come somewhat easier.
Still we took a few hours today to walk around downtown New Hope. It is a lively place with a lot of historic buildings, plenty of shops & restaurants, a canal with bike trail, and a short-line steam train that runs hourly through the day. Judging by the people we saw and the nature of some of the shops, it appears to be a very inclusive place as well. Across the Delaware River by a long metal bridge is Lambertville, which has additional things to offer. You could definitely spend a day …
We will probably get another chance to explore the towns and surrounding attractions the next time we are forced down I-95. Good stops along that highway are hard to find, so this courtesy parking opportunity will be added to our permanent list.