In the past week I have neglected the blog more than any other time in the past three years. I find it curious that as we approach our third anniversary "on the road" next week, I have suddenly run out of things to say. It surprises me more than anyone, I think.
The dry spell is probably because things have changed for us. Without getting into personal details, we are facing a confluence of events that seem to be telling us that our time for full-time travel is coming to an end. It feels like it is not a choice, but an inevitability — which is also a strange feeling, because I am not a fatalist.
So we are talking and thinking. Why does it feel like the end of this phase? What will our lives look like next year? What do we want to achieve?
There are some things we know. We know we still enjoy travel and will continue to go on frequent and extended trips with the Airstream. We know we'll be together. The rest will follow. More on this later.
The Caravel project is off to a slow start. Work has interfered, and I have yet to find the appropriate wood to match to the oak in the trailer. Modern oak looks different. Fortunately we have some excellent wood specialists in Vermont and I'm sure eventually they will set me up.
In the meantime I've been getting the workspace ready. I have use of a 20×10 tent shelter with electricity, a tarp floor, and all the tools I should need. The cabinets are spread out so that I can see them all, and I have a long work bench in the middle. This weekend I hope to have some time to start sanding the good pieces of wood, and putting a few test coats of polyurethane on them.
Polyurethane … There's a smell I had hoped not to detect again anytime soon. In our last house, Eleanor and I urethaned every single piece of door trim, window trim, baseboard, railing, crown molding, plus all the stairs, about a dozen pine doors, and 17 windows — three to four coats each. (We also built most of the trim ourselves.) We earned our Polyurethane merit badges several times over.
Our new house has no polyurethane in it at all. In the southwest they go in for paint instead, which suits me fine. But I have a 1968 Airstream and the wood needs to be finished with something other than paint, so out comes the poly …
The good news is that I have recruited some helpful labor. Brett is coming up in early July to lend a hand. (He thinks he's coming for a visit and some boat rides.) If you read our Vintage Thunder blog in early 2004 you know what happens when Brett and I get rolling on a project. Progress should be fast, which will be good because on July 9 we're leaving for the Vintage Trailer Jam.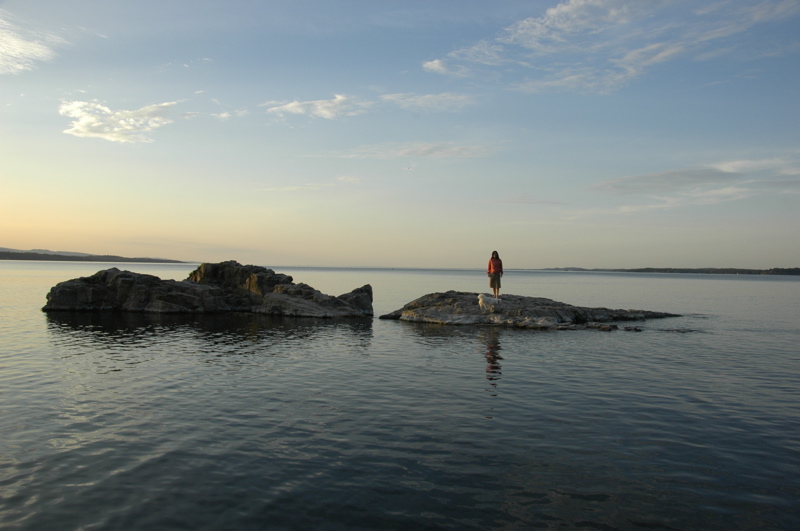 I will leave you with this photo taken on Lake Champlain last week, a reminder of the times that the weather is good here. It hasn't been good lately. The past week every day has been in the 60s with frequent rain. The forecast is for this to continue until at least Monday. Such is the way it goes here. It is green, damp, buggy, and gray most of the time. Vermont is beautiful, but you have to be patient for the weather to let you see it at its best.