For unknown reasons we were all up even earlier today, at about 5:45 a.m. We didn't have the excuse of an early parker arriving at dawn, so I can't fathom why I felt unable to sleep to a civilized hour. When I woke up, Fred was already awake and lying quietly on the dinette, probably contemplating what he could do in a strange trailer without disturbing me. Back in the rear bedroom, Brett was rolling around in reluctant preparation to get up too.
Since Fred joined us yesterday from Colorado, we are three guys in one big trailer. With door prizes, spare registration materials, computers, cameras, and cables, there is hardly room for Fred's luggage or our dinner. The easiest thing to do is to stay out of the trailer most of the time, and use it primarily for sleeping the few hours we allot ourselves each night.

With the VTJ rolling along tumultuously, we have had precious few moments to sit in the trailer anyway. This morning over breakfast Fred commented that he could easily get along for three days on adrenaline alone, but for Brett and I, this is already Day Four. The Jam has been enormous fun and keeping us propped up so far.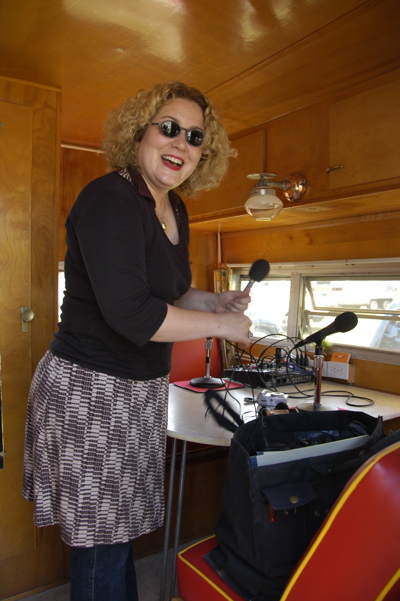 Today's major event was the Open House from 10 a.m. to 2 p.m., which kept everyone busy. I don't know how many people walked through but there were certainly dozens of visitors from town, in addition to about 200 people camped here. I led a photography safari through the maze of trailers with a few people tagging along. Sabrina Artel recorded her radio show, "Trailer Talk" on site, and then in the afternoon the seminars began with Susanne Brown talking about interior design of trailers. Even with temperatures in the upper 80s and plenty of humidity (back again), everyone seemed to be having a terrific time.
After Susanne, we had Colin Iwasa from Yamaha talking about generators, and then it was time for happy hour, where we gave away six t-shirts, three bottles of Corrosion-X, three bottles of Rejex, two Maxxair vent covers, two copies of the book "Airstream Living," one copy of the book "Silver Palaces," and a second 12-volt "Endless Breeze" fan from Fantastic Vent. Then we fired up the band for a 40-minute set, and got everyone started on their catered dinner on the lawn while the band played a second set. Now it's time for the evening movie at 8:30, outside on the lawn amidst the trailers, while I fine-tune my presentations for tomorrow back here in the Airstream.

The local newspapers have been in love with the VTJ. We got front-page coverage from the Saratoga Post-Star and the Daily Gazette today. Tomorrow I'm expecting a reporter from a third newspaper. The park seems happy with us, and everyone here is calling for another Jam next year. I don't really know if we can do it, but we will be checking into the prospects. It would be a great thing if we can pull it off again, but I'd rather think about that in a week or so, after I've caught up on sleep.
Once I have a good high-speed Internet connection, I'll make a new Flickr album with all my VTJ photos and notify you here.